Star Track's integration with Starshipit allows you to use all of Starshipit's features including generation of packing slips and shipping labels, booking a courier pickup, auto-correction of addresses, branded tracking and notifications and many more.
This article outlines how to set up StarTrack account in Starshipit.
If you are interested in StarTrack Courier or AusPost OnDemand please refer to this article.
Before you start you will need your:

StarTrack Account number
StarTrack API key
StarTrack API secret
If you are missing any of these credentials, follow these steps to source them.

For pricing and label printing to work correctly, you will need to set up your StarTrack unit types first.
Setting up your StarTrack account in Starshipit
1. Add the StarTrack API in Starshipit
Go to Settings > Carrier > Add a new courier > StarTrack.
Tick Enable StarTrack.
Complete Account Number, API Key, and Password (API Secret).
Click on Lookup to get your mailing location ID.
Click Save.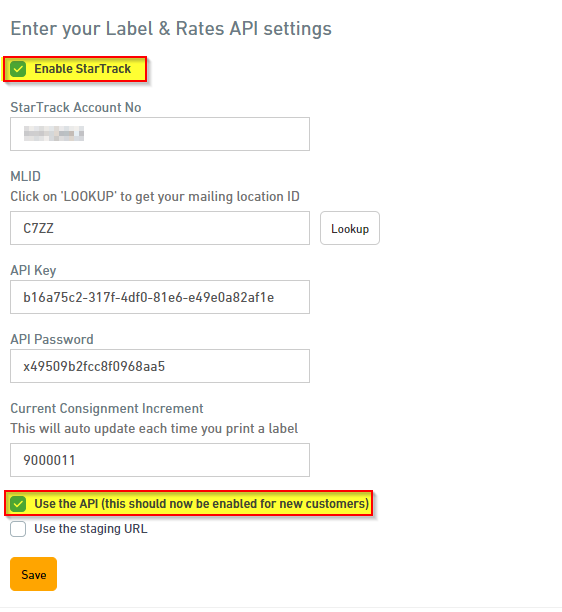 2. Add your product code.
To complete the setup of your StarTrack integration, you need to enter your product codes. If you don't know your product codes, please contact your StarTrack Account Manager.
Click on Add a new product code.
Fill Product code with the specific code given by StarTrack.
Fill the Name field with whatever makes sense to you, e.g. "Premium" for the PRM service.
Click Add.

Troubleshooting Error:
When I click "Lookup" the response is ": The request failed authentication" or something similar.
This means your account hasn't been activated properly. Please contact AusPost/StarTrack support on customer_connectivity@auspost.com.au with your API details or contact your StarTrack account manager directly.
NB: There are now two special service movement codes available in the StarTrack API: Tailgate RET and RE2. While you can create shipping data and labels via Starshipit, the mechanism that alerts the special services team at StarTrack is not in place. Please contact your StarTrack representative to find out what process you need to follow to book special services pickups.