Overview
Amazon shipping is a courier service and can be used to deliver orders from any eCommerce platform (you do not need to be selling on Amazon Marketplace to use Amazon shipping).
This article outlines how to set up Amazon Shipping as a carrier service in Starshipit.
Notes: Amazon Shipping is currently for the United Kingdom only (UK).
Before you get started
Before getting started you will need to apply and open and be approved for an Amazon Shipping Account If you don't already have an account, you can sign up here on the Amazon Shipping website.
How to set up Amazon Shipping
Go to Settings > Couriers
Click Add a new courier
Select United Kingdom from the dropdown option in the Shipping From section
Click Amazon Shipping
Select Enable Amazon Shipping
The default Amazon Marketplace is the UK

Note: We currently only support the UK

Click Authorize. This will redirect to you to Amazon Shipping website to login: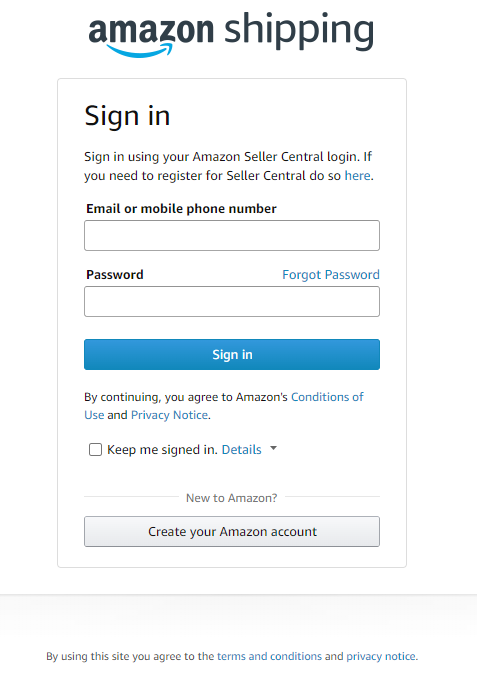 Enter your Amazon Shipping credentials.

When prompted, accept terms and conditions and authorise Starshipit for Direct-to-consumer Delivery by clicking on 'Authorise'.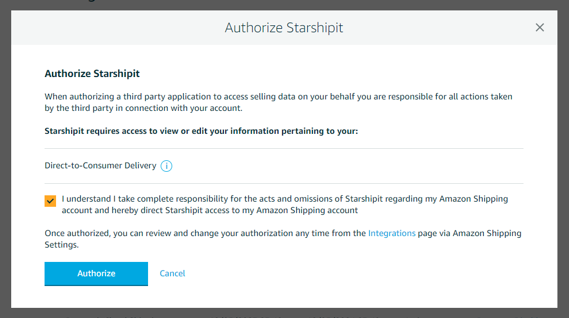 After authorisation, you'll be redirected back to the Starshipit app.

Click Save
Amazon Shipping FAQs
Q: Can I use Amazon Shipping to ship Amazon orders placed via Amazon Marketplace?
A: Yes, but even though the order was created in the Amazon Marketplace, Starshipit will treat it as if it was created by an external platform (outside of Amazon).
Note: When the order is treated as coming from an external platform, the services and shipping speed to ensure the delivery promises offered by Amazon Shipping are slightly different, and you may not be entitled to the BuyShipping benefits offered by Amazon.
Q: Can I use Amazon Shipping to ship international orders?
A: Currently, the integration only supports UK domestic Shipments (UK to UK).
Q: Can I send multiple packages in one shipment?
A: This is not currently supported.
Q: Does Amazon Shipping offer additional services such as Signature required or handling dangerous goods?
A: This is not currently supported.