Overview
Uber's integration with Starshipit allows you to use all of Starshipit's features including generation of packing slips and shipping labels, auto-correction of addresses, branded tracking and notifications, and many more.
Before adding Uber to Starshipit, you will need to speak with an Uber Direct representative first to discuss your terms, please reach out to direct.merchants.anz@uber.com to be directed to the correct representative.
Uber delivery is currently only supported domestically in Australia and New Zealand.
In this guide
What you need to get started
Before getting started with Uber you will need:
When you have your account set up with Uber, reach out to your Uber account manager or support@starshipit.com to get set up with your Uber Client ID.
How to set up Uber
To enable Uber on your account:
Go to Settings > Couriers > Add a new Courier > Uber
Enter your Uber Client ID in the Customer ID field
Select Save
Click "Test to ensure it works"
Uber Available Products
Uber does not require you to set up product codes. When you open an order you will see Uber as an option with the current delivery price. Rates are live for sending the package at that time.
Uber Additional Features
Labels
Uber does not generate labels for its shipments. To help distinguish the orders you are having picked up by Uber, Starshipit generates a plain label that you can use for these orders.
Pickups
You can set a default pickup time e.g immediately after printing, a delayed time after printing or a specific date and time in your Starshipit Uber settings page. If you select a 'delayed time after printing' or 'specific date and time' as your default pickup option, a schedule window will be presented to you within the order before you print a label.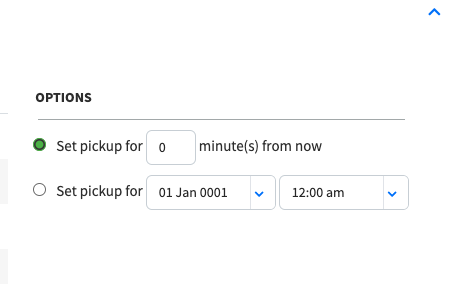 Navigate to Settings > Couriers > Uber settings to set your default pickup preference.
Tracking
The tracking link you get from Uber will provide you with real time updates for the driver coming to pick up your order. If you are using Starshipit tracking notifications, the Uber tracking link will be sent to your customer on the 'Printed' milestone.
Undeliverable action
Set your default undeliverable action in your Starshipit Uber settings page. The options you can select are; return to sender, leave at door or discard.
Deliverable action
Set your default deliverable action in your Starshipit Uber settings page. You can select leave at door or meet at door. Please note: you cannot select leave at door if you have signature required or ID verification is selected.
Picture on delivery
Set picture on delivery required as a default deliverable action in your Starshipit Uber settings page. Please note: when selected, the courier must capture an image as proof of delivery.
Signature required
Set Uber shipments as signature required. When selected, the courier must collect a signature as proof of delivery.