Overview
Starshipit's integration with NZ Post allows you to use all of Starshipit's features including generation of packing slips and shipping labels, auto-correction of addresses, branded tracking and notifications and many more.
Starshipit is fully integrated with NZ Post services including their domestic, international and express offerings. These three services are represented as three different couriers in Starshipit:
NZ Post Domestic
NZ Post International
NZ Post Express
In order to use any of these couriers on Starshipit you will need to request commercial access to the NZ Post API.
Once this has been completed you will need a Client ID and Client Secret to finish the setup. These credentials are requested on your behalf by the Starshipit team.We will just need your Account Number, Site ID, and Permit Post Number (if applicable).
NOTE: An account number starting with a 9 can be used for Domestic and International. An account number starting with a 5 can only be used for International.
If you have two account numbers, check with NZ Post if one of the account numbers has discounted pricing setup on it as this one should be used with Starshipit.
1. Request commercial access
Go here and create an account if you haven't already.
Log into your freshly created account
Go here and fill in the form to register for API commercial access.
Add "Starshipit Support" and "support@starshipit.com" as your developer contact.
Designate Domestic and International services as the services you want.
Click Submit.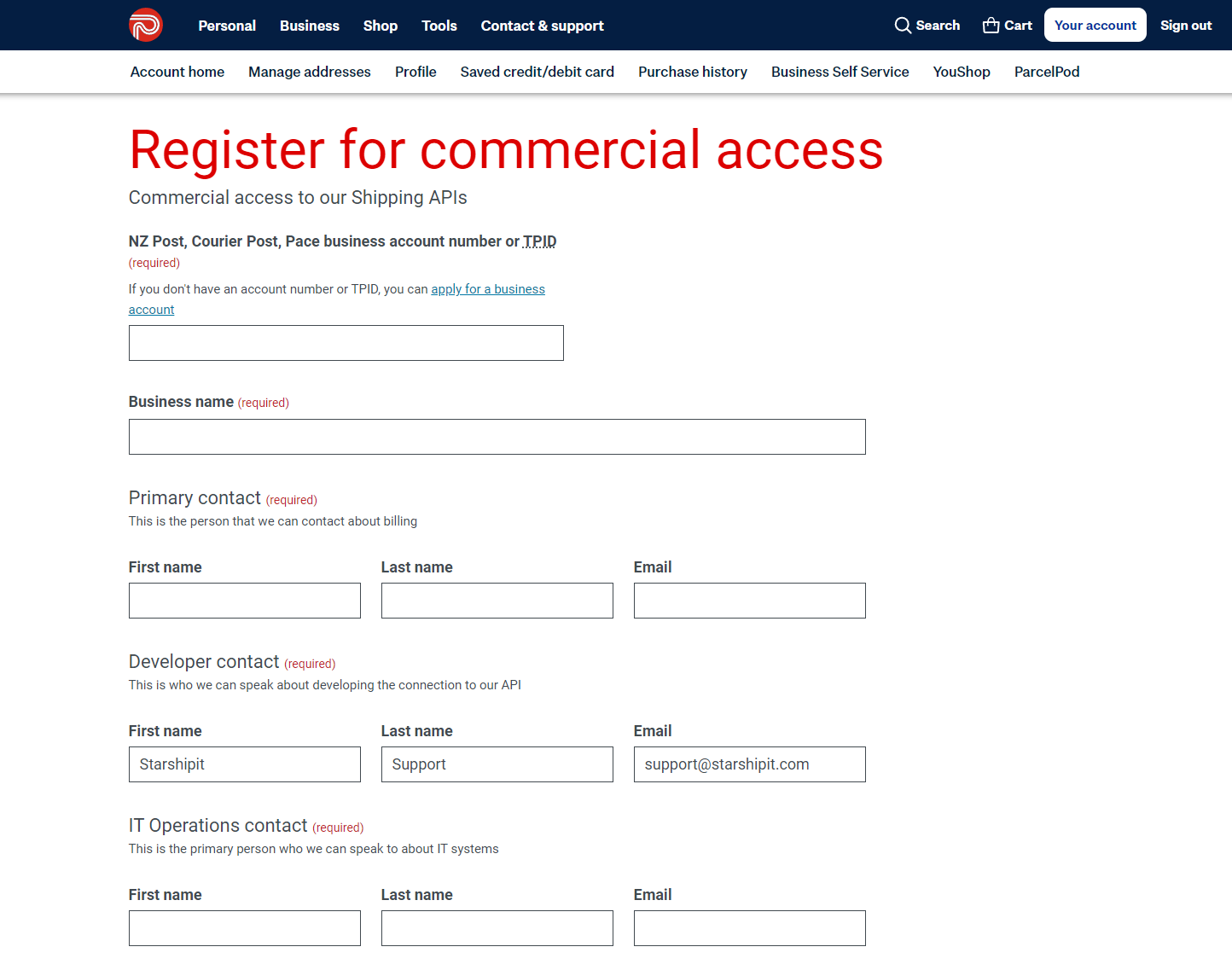 After you apply for the above, you will get an email from the NZ Post API team within 2-3 business days. It will include the steps for requesting your Client ID and Client secret, however you should not follow these steps and instead proceed with the next steps below.
2. Send account information to Starshipit
Once your application for commercial access has been processed, send the following information to Starshipit at support@starshipit.com:
Account Number(s)
Site ID (CourierPost)
Permit Post Number (NZ Post International, optional)
We will process an application to get your Client ID and Client secret from NZ Post on your behalf, and let you know once we hear back from NZ Post.
3. Setup your couriers
Once Starshipit has your Client ID and Client Secret we will also setup your required couriers on your behalf provided you have been in contact with our team.
Otherwise, if you have been given your Client ID and Client Secret by our team you can setup each courier by yourself using the following guides:
Other relevant information for you
To know more about NZ Post's eShip services, click here
For for more information on NZ Post eShip and vStarshipit, click here