Overview
Set up DPD UK as a courier service in StarshipIt.
Before you begin
You need your DPD UK portal login credentials: 
Account Number
Username
Password
These are the credentials used to log in to the DPD UK portal.
Your account number can be found in MyDPD > My Account Details, after logging into the portal.
1. Enter your account details in StarshipIt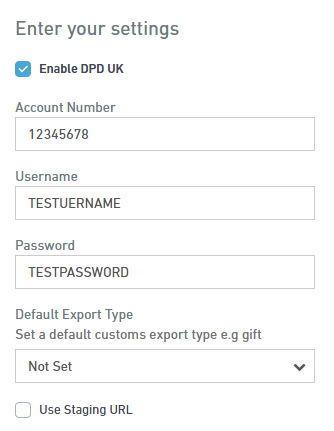 Click Test to ensure it works, to see if your credentials are working correctly.
2. Set up parcel collection date/time
You can set up a collection of packages to be a certain number of minutes from the time of printing of an order's label.
Or, you can set it to a regular daily time that you have booked with DPD UK. If you do this, the date can be set in the future for the next date to be used, or if it is today or was previously set and that date is now in the past, then today's date will always be used.

NOTE: You cannot set the collection date to be in the past when modifying though, and you also cannot set it to a date more than 7 days into the future.
You can also override this setting on any individual order and the new value will be saved as the new overall setting.
3. Set up advanced settings

NOTE: EORI Number and Shipper Destination Tax Id are only applicable for international shipments.
Please note that DPD UK does not pass rates into StarshipIt, so these will not be shown on the New Order page.
You can, however, set up 'table rates' for DPD UK, where you would record the rates that the courier charges you, and these can be passed back when calling the StarshipIt API (although they will still not show in the New Order page).