Zoom2u is a courier marketplace that connects you with the best couriers across Australia. Zoom2u drivers provide you with VIP, 3-hour, and same day delivery services, which can be booked online, and enables you to instantly see which driver will be delivering.
Zoom2u's integration with Starshipit allows you to use all of Starshipit's features including generation of packing slips and shipping labels, auto-correction of addresses, branded tracking and notifications and many more.
Setting up your Zoom2u account in Starshipit
The first step to activate your Zoom2u account in Starshipit is to get your Zoom2u API Key. You then 'Go Online', and then copy the API Key into Starshipit.
1. Getting your API key in the Zoom2u portal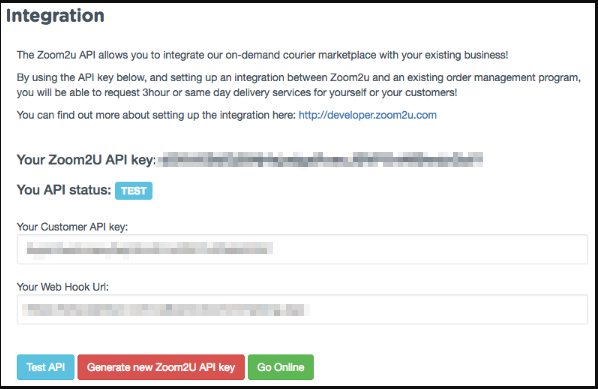 2. Go Online
Initially, the API Key is in test mode. Clicking on "Go Online" enables creation of live bookings in Zoom2u, which then get offered to couriers. When in test mode ("Offline"), bookings are created as tests, which are not offered to couriers. This is to ensure setup is correctly completed before actually going live.
Note: Do not switch to Online mode before full setup is complete. After full setup is complete, run a few test bookings to ensure the correctness of setup, and to check the booking data is being passed between the systems. The Zoom2u onboarding team can assist you with this.

3. Copy your API key into Starshipit
Once you have your Zoom2u API key, you need to enter it in Starshipit.
In Starshipit, go to Settings > Couriers > Add New Courier > Zoom2u
Populate the API field with the Zoom2u API Key
Add your "3 hours" service code (as below)
Click Save

Service codes available for Zoom2u are:
3 - 3 hour
S - Same day
V - VIP
Other relevant information for you:
To know more about Zoom2u's integration with Starshipit, click here