For StarShipIT to access your DHL account we require your
DHL Account Number
XML-PI username
XML-PI password
If you do not have these credentials, please contact our support support@starshipit.com with your DHL account number or contact your DHL account manager saying you need your XML-pi access to use StarShipIT.
2 Minute Demonstration
1. Enter your DHL credentials in StarShipIT
Go to Settings > Carriers > Add Courier > DHL Express.
Check the Enable DHL checkbox.
Fill in your account number, username and password.
Click the save button.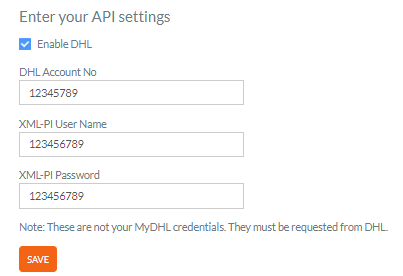 2. Add your product codes
Click add new product codes
Complete the code and the name
Click 'ADD'

Note: The most common product code for DHL express is P for worldwide international and N for domestic
3. I want to order some DHL Labels
To order DHL labels (100*200) request a supply here:
http://www.dhl.com.au/en/express/shipping/order_supplies.html
Troubleshooting
Q. When I try to print I get an error message: Please provide a package description. You can set the generic description under Settings > Options
A. In Settings > option > Package Description, you need to provide a general description of your products (Clothing, Cosmetic Product, Swimwear)
Q. when I try to print I get an error message: The system could not verify your shipping account number. Please correct this number and resubmit. For assistance call your DHL customer services representative
A. Contact your account manager. It seems there is an issue with your DHL account