Hunter Express's integration with Starshipit allows you to use all of Starshipit's features including generation of packing slips and shipping labels, auto-correction of addresses, branded tracking and notifications and many more.
This article outlines how to set up Hunter Express as a courier service in Starshipit.
1. How to request your API access:
Contact your Hunter Express account manager and inform them you want to start using Starshipit. They will will then supply you with your API Account credentials (Username/Password)
OR
Send your customer code to support@starshipit.com and we will apply for you.
2. How do I set-up my Hunter Express account in Starshipit?
Go to Settings > Integration > Add Courier.
Select Hunter Express.
Enter the Account details and click save.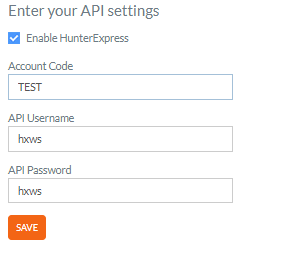 3. How do I enter my product codes?
In Setting > Carrier > Hunter Express settings
Click on Load products codes from Hunter Express.
The list of your product codes will be listed automatically.

NOTE: If some of your product codes are missing you need to contact Hunter Express directly, we suggest you try to import them again just in case.
Other relevant information for you:
To know more about APIs and their importance, click here