There are many reasons why you might need to remove and then re-import orders.
For example if you have created new business rules to help assign couriers, you may remove the orders from un-shipped and re-import them so that the rules will apply
Note: You cannot re-import orders that have been saved. Check for the saved order icon

.
1. Remove imported unshipped orders
Go to the Orders section
Click Actions > Remove Imported Unshipped Orders. (for single order removal instead select the order, then select Actions > Remove (can be re-imported))
Confirm the action by selecting Remove.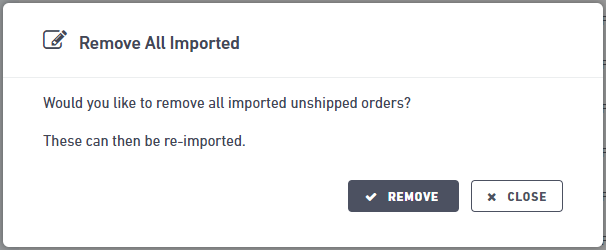 2. Reimport your orders
Click Import and then one of the three options available: Import All, Import Option, Import CSV File For more

information

on importing orders check out our support document
Your orders will import with any changes made or actions applied by your rules