Overview
You can change or upgrade your pricing plan at any time.
If you exceed your monthly quota for labels, you may have to upgrade your pricing plan.
About changing your pricing plan
When you first register with Starshipit, you'll receive a 30-day free trial that gives you access to all features (except child accounts). If you decide to continue past your free trial period and select a paid plan, you'll be charged a monthly or annual subscription fee depending on the plan you select. If you choose to pay on a monthly basis, you'll be billed straightaway for the first month.
Starshipit allows you to change between plans at any time. You can upgrade, downgrade, switch from monthly to annual, or annual to monthly at any point you'd like.
If you downgrade, you'll be credited pro rata any credit you may accrue from the downgrade.
If you upgrade, the current value will be deducted from the cost of the upgrade.
Any remaining pro rata credit will remain in your Starshipit account for you to use at a later date. Unfortunately, we're unable to refund you any credit you have that may reside in your Starshipit account.
Choose a new pricing plan
Log in to Starshipit then go to Settings
Select My Account from the sidebar
Click Manage Plan and Account Details
Click your current plan to access Subscription Details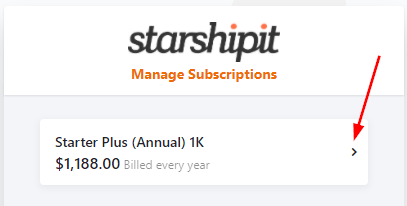 Click Edit Subscription
Select a pricing plan, and choose to pay on a monthly or annual basis
Click Update Subscription
Next, click Subscription Details to go back to the main billing page
Click Payment Methods
Enter your credit card details, then click Add (Note: we support VISA, MasterCard, and AMEX. We do not support PayPal or Afterpay)
If you enter your card details and you're currently on a trial plan with trial days remaining, these will be added to your chosen plan.
Upgrade your pricing plan
If you exceed your monthly quota for labels, you may have to upgrade your pricing plan. If you exceed your monthly label quota, you'll see an error message in Starshipit:
To resolve this, you can do one of the following:
Wait until your plan rolls over to the next month before printing anymore labels.
Upgrade your plan per the Choose a new pricing plan steps above.