StarShipIT currently supports Amazon Australia Marketplace and Amazon.com (USA/CA/MEX) Marketplace.
For enquiries for Amazon UK or Europe Marketplace please email StarShipIT support
The steps below will guide you through integrating your Amazon Seller account with StarShipIT. Once completed, your orders will be imported into StarShipIT and the tracking information will be written back when you print a label.
1. Add Amazon MWS Developer Permission
Note: These instructions only work if you have a Seller Central Professional account
Log into your Amazon seller central account
Go to Settings > User Permissions
Scroll to Amazon MWS Developer Permissions and click on the "Authorize a Developer" button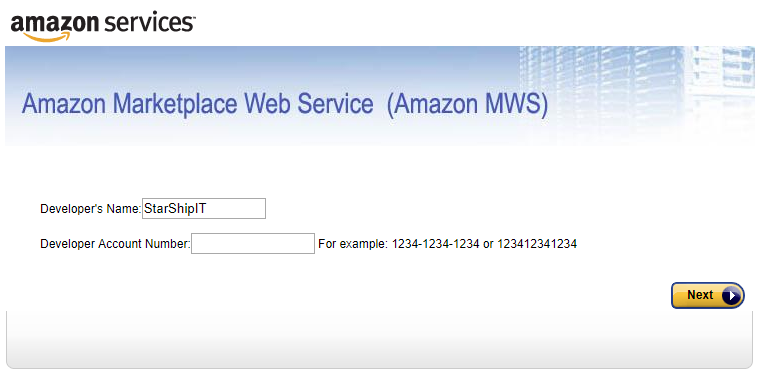 Developer's Name: "StarShipIT"
Developer Account Number:

Use "1817-8885-3340" for Amazon Australia Marketplace
Use "4642-1105-5661" for Amazon USA Marketplace
For Amazon UK & Europe contact support

Click on the "Next" button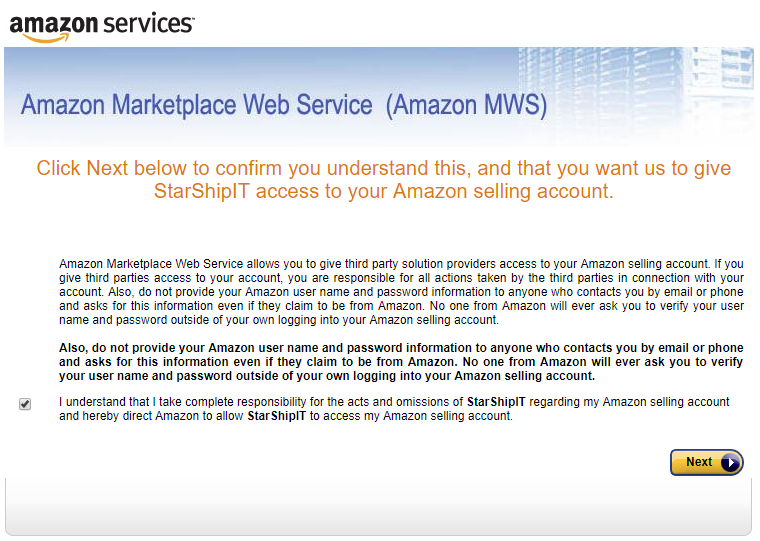 Click on the "Next" button to confirm access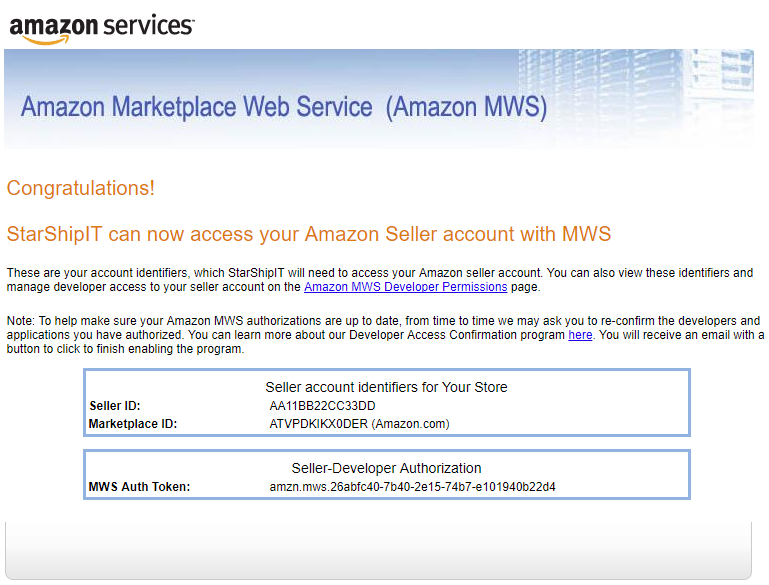 Please note down your Seller ID, Marketplace ID and MWS Auth Token for the next step
2. Setting up Amazon integration in StarShipIT
Log into StarShipIT and go to Settings > Integration > Add New > Amazon
Click on Enable Amazon tick box
Enter your Seller ID
Enter your MWS Auth Token
Enter your Marketplace ID
Enter your Service URL (Amazon MWS Endpoint)

Amazon MWS Endpoint can be found here

Status to Import, must have a minimum of one frield
Click on the "Save" button