How to Integrate using a CSV File
If your eCommerce platform is not on the list of supported platforms you can extract your orders from a CSV file and import it in to StarShipIT.
The following steps will help you to map your CVS file to StarShipIT, and once completed, your orders can be imported in StarShipIT.
Below is the format requirement for your CSV file:   
You must add one piece of data per column
You must add one item per line (if two items in one order, you will add two lines with the same order number)
Order numbers must be different from each other.
1. How to set-up you CSV import
You can use our template (download template containing default field mappings here). 
However, the order of your columns may vary. You can customize your column order under:
Settings > CSV Format.
Remember to click 'Save' after making any changes for them to apply.
If you tick: "Use column numbers" you must enter the column number where the information is located (enter the number 6 in front of the name if the name is located in the 6th column)
If you tick the "Column name" the header of your CSV file column needs to match the column name below.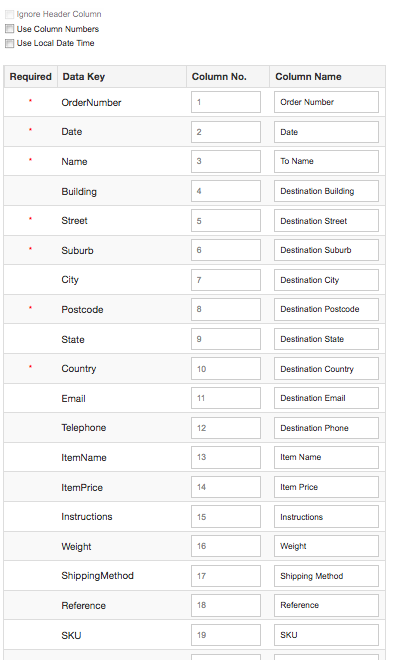 2. Importing using CSV files
Go to Unshipped > Import > upload CSV file

Select a CSV file from your computer and Click import CSV. When the import is completed click close.