Overview
Starshipit is used by hundreds of 3PLs (third party logistics) to manage their customers' accounts.
To configure your account for a 3PL workflow you need to set up child accounts for each of your customers.
Each child account will cost $20 per month.
Please note: Child accounts are supported if your account is billed directly by Starshipit. If you are billed by Shopify, please contact support@starshipit.com for more information.
How it works

Child accounts are attached to your main

Starshipit account.

Your child account generally has different settings from your parent Starshipit account e.g different couriers, integrations, pickup address and more.

You can configure these based on individual customer requirements.
You can easily switch between your different child accounts.
Set up 3PL child accounts
In your Starshipit account, go to Settings > Child Accounts.
Click Add a new child account.
Set a username and password for the account.
Under Type, select 3PL Client Account.
Select whether or not to Hide Courier Rates.
Click Save.
Configure settings specific to each account: Pickup address, Courier details, Printing parameters.

Pickup Address: Go to Settings > Pickup Address and set the address of your warehouse.
Couriers details: Enter credentials for each courier service.
Printing Parameter: You'll need to set up the printer of the new location.
Overriding your child account
Using your parent account you can override and access your secondary child account.
For example, if you have a parent swimwear business and you also sell protein powder under a different brand, you'll use the override function from your swimwear account to access your protein powder child account.
Step 1: Click the drop-down menu on your account name in the top right of the Orders dashboard.
Step 2: Click Switch next to the child account account you'd like to override.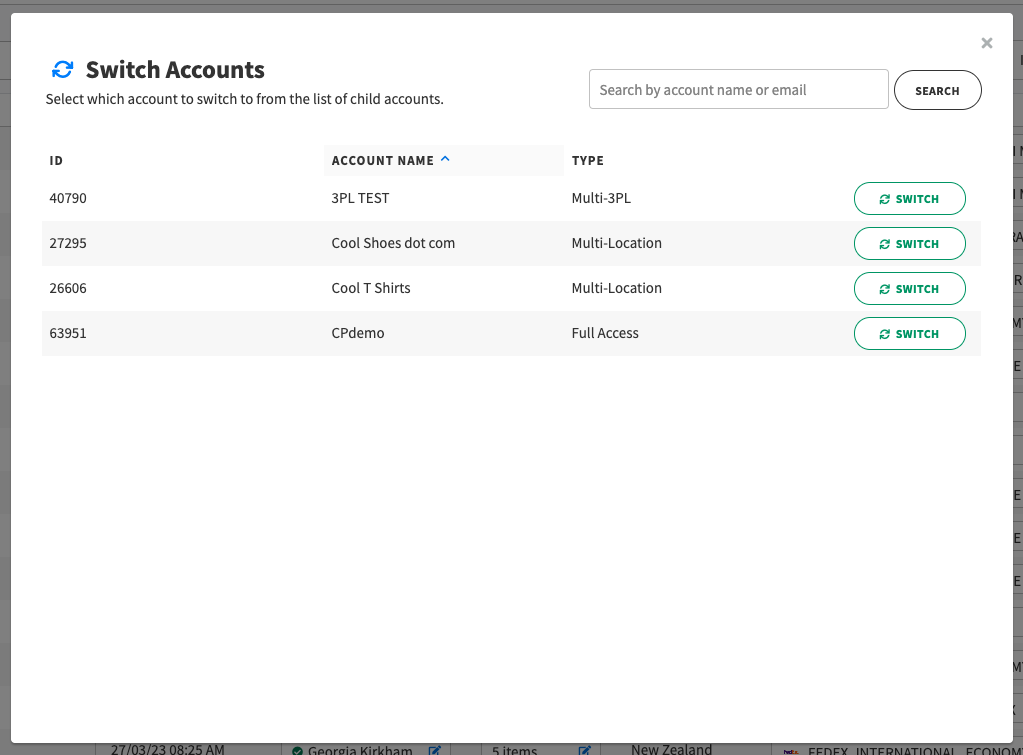 What's Next?
Learn more about child accounts, or set up child accounts for your 3PL integration.