Overview
Install the Windows app directly on your computer to improve overall processing and printing speed.
Configure your print settings and add new printers and workstations in the Windows app.
About the Windows app
The Windows app is a standalone alternative to the web app and the print client. Choose between the StarShipIT web app or the windows app for your day-to-day order fulfilment.
Once you download the Windows app, you won't need a Print Client. The Windows app connects directly to the printers you have set up on your computer, as well as any printers available on the network.
1. Download the Windows app
Log in to your StarShipIT account.
Go to Settings, then select Apps and click Download Windows App.
Once the app has downloaded, enter the six digit code from the web app to launch the Windows app.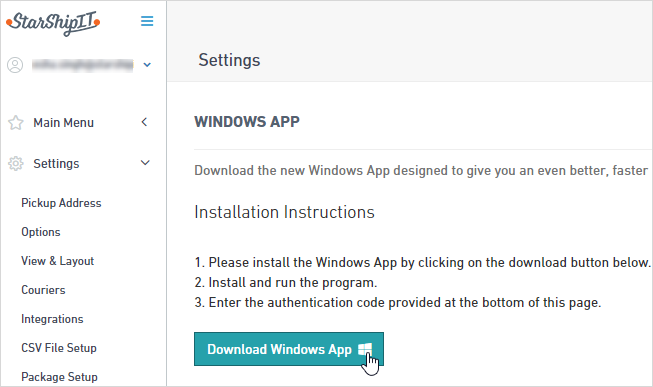 2. Configure your print settings
You can configure your printers in the Windows app, so you can add new printers and workstations.
NOTE: Australia Post label sheet printing is not supported using the Windows app. You'll need to use the web app to generate labels in this format.
Add a new label and printer
In the Windows app, go to Printer settings.
Click Create new label and printer.
Select the label type and printer.
Click Save to add your label type and printer as a new entry.

Edit your print settings
Click Edit Preferences next to the printer name and make sure the paper dimensions and orientation is correct.
Click Save.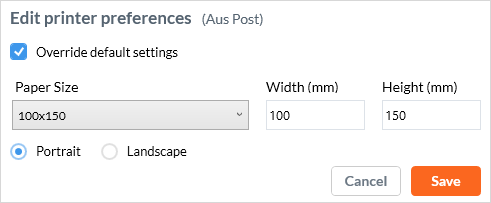 You can add as many label type entries as you require. If you print a label using a courier that doesn't have an entry added in printer settings, then the app will prompt you to select label dimensions and a printer.
NOTE: If you want to print labels using the web app then you must install the print client, so your labels are automatically sent to your printers .