The steps below will guide you through integrating your CIN7 platform with Starshipit. Once completed, your order will be imported into Starshipit and the tracking information will be written back when you print a label.
NOTE: The integration has been built by CIN7. If the information imported into Starshipit is not mapped properly, please contact CIN7 support.
1. Activate Starshipit in Cin7
Ensure Starshipit module has been installed as per the

Cin7 documentation
Log into Cin7 with your administrator's login
Hover over your username in the top right corner of the screen and select the "Settings" option in the drop-down
Click on "Select Integrations"
Tick the "Starshipit" module and click "Create"
Then in the settings page, you should see "Starshipit Settings" under the "Integrations" header
Click on this link and leave this page open as you will need to copy and paste the 2 values on the page intoStarshipit.
For more information, you can see the documentation build by CIN7: connecting-cin7-to-starshipit
2. Copy the information in Starshipit:
In Starshipit go to Settings > Integration > Add New > Cin7.
And complete Cin7 Username and Cin7 Key with the information gathered in step 1.

3. Order Import
To be able to import the orders into StartShipITStarshipit the below must be met:-
The Transaction is Approved.
The Stage of the Transaction is set to Fully Picked
The fully dispatched field is empty.
Once these conditions are met you can import the orders directly into Starshipit
4. CIN7, Shopify, Starshipit data flow diagram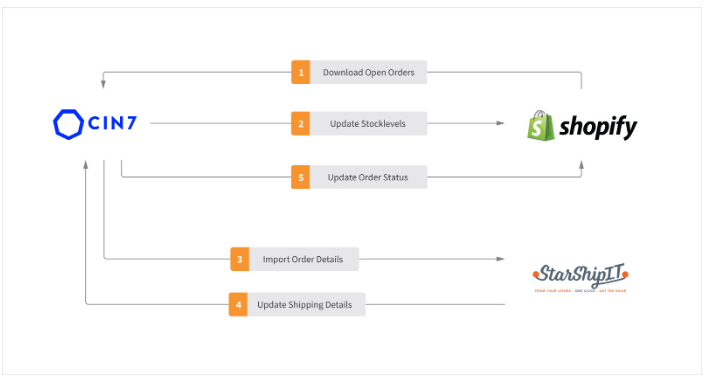 5. Troubleshooting
I clicked on test connection and I get an invalid credentials error message
Please double check that you have copied the correct information in Starshipit and check that you have properly saved the information in CIN7