UPS's integration with Starshipit allows you to use all of Starshipit's features including generation of packing slips and shipping labels, auto-correction of addresses, branded tracking and notifications and many more.
This article outlines how to set up UPS account in Starshipit.
Before you begin
You need your UPS portal login credentials and access key/license number:
User ID
Password
Access License Number
Shipping Number
To get these, first sign into your account at ups.com (your may need to sign up for an account first), then click on 'Request an access key'.
UPS will supply you with an access key/license number and shipping number.
Setting up UPS account in Starshipit
1. Enter your account details in Starshipit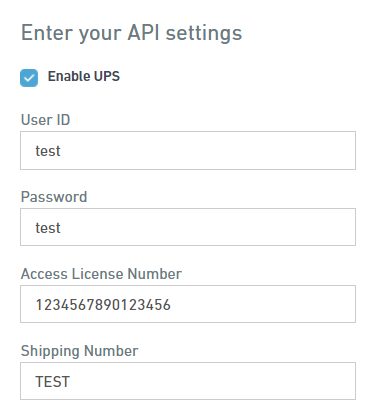 Click Test to ensure it works, to see if your credentials are working correctly.
2. Set up advanced settings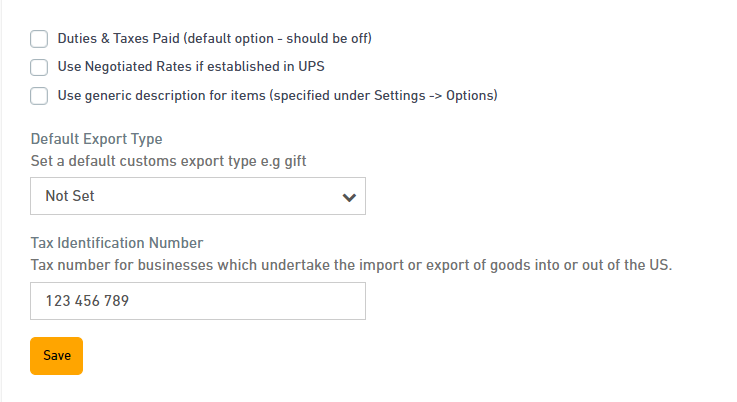 NOTE 1: Duties & Taxes Paid, Default Export Type and Tax Identification Number are only applicable for international shipments.
Please note that negotiated rates can only be used if you have an agreement in place with UPS. In all other instances, or if the Use Negotiated Rates checkbox is unchecked, retail rates will be displayed in Starshipit.
You can set up rates for UPS where you would can apply an additional percentage or fixed amount on top of what the courier charges you, and these can be passed back when calling the StarshipIt API.


NOTE 2: You can configure settings for the NAFTA Certificate of Origin. This certificate is used by Canada, Mexico, and the United States including Puerto Rico, to determine if goods imported into their countries receive reduced or eliminated duty as specified by the North American Free Trade Agreement (NAFTA).

The NAFTA Certificate of Origin is attached to an invoice if the shipment is valued at greater than:
$1,000 USD and is being sent

to Mexico - from Canada or the U.S.
$2,500 CAD and is being sent

to Canada - from Mexico or the U.S.
$2,500 USD and is being sent

to the U.S. - from Canada or Mexico.
NOTE 3: If you wish to use, you can enable the setting:
Use Paperless Invoice (where available) for Commercial Invoice and NAFTA CO documents
However, you must also request UPS to enable paperless trade at their end. If these are enabled and working correctly, 'EDI' will show at the bottom-right of any paperless trade labels, or otherwise 'INV' will show.
3. Set up your product codes
Add your product codes to complete the integration. Supported product codes are:

Undefined Countries or Territories
Use for all countries or territories other than United States, Canada, European Union, Mexico, Poland, and Puerto Rico
07 - UPS Express

11 - UPS Standard

08 - UPS Worldwide Expedited

54 - UPS Worldwide Express Plus

65 - UPS Worldwide Express Plus
All Countries or Territories
Shipments originating in any country or territory
96 - UPS Worldwide Express Freight

M5 - UPS Priority Mail Innovations

M6 - UPS Economy Mail Innovations

71 - UPS Worldwide Express Freight Mid-day
United States
Shipments originating in United States
11 - UPS Standard

08 - UPS Worldwide Expedited

07 - UPS Worldwide Express

54 - UPS Worldwide Express Plus

65 - UPS Worldwide Saver

72 - UPS Worldwide Economy DDP

17 - UPS Worldwide Economy DDU
United States
Domestic shipments in United States
02 - UPS 2nd Day Air
59 - UPS 2nd Day Air A.M.
12 - UPS 3 Day Select
M4 - UPS Expedited Mail Innovations
M2 - UPS First-Class Mail
03 - UPS Ground
01 - UPS Next Day Air
14 - UPS Next Day Air Early
13 - UPS Next Day Air Saver
M3 - UPS Priority Mail
Canada
02 - UPS Expedited
13 - UPS Express Saver
12 - UPS 3 Day Select
70 - UPS Access Point Economy
01 - UPS Express
14 - UPS Express Early
65 - UPS Express Saver
11 - UPS Standard
08 - UPS Worldwide Expedited
07 - UPS Worldwide Express
54 - UPS Worldwide Express Plus
54 - UPS Worldwide Express Plus
72 - UPSTM Worldwide Economy DDP
17 - UPSTM Worldwide Economy DDU
European Union
70 - UPS Access Point Economy
08 - UPS Expedited
07 - UPS Express
11 - UPS Standard
54 - UPS Worldwide Express Plus
65 - UPS Worldwide Saver
74 - UPS Express®12:00
72 - UPSTM Economy DDP
17 - UPSTM Economy DDU
Mexico
70 - UPS Access Point Economy
08 - UPS Expedited
07 - UPS Express
54 - UPS Express Plus
11 - UPS Standard
65 - UPS Worldwide Saver
Poland
70 - UPS Access Point Economy
08 - UPS Expedited
07 - UPS Express
54 - UPS Express Plus
65 - UPS Express Saver
11 - UPS Standard
83 - UPS Today Dedicated Courier
85 - UPS Today Express
86 - UPS Today Express Saver
82 - UPS Today Standard
72 - UPSTM Economy DDP
17 - UPSTM Economy DDU
Puerto Rico
Shipments originating in Puerto Rico
02 - UPS 2nd Day Air

03 - UPS Ground

01 - UPS Next Day Air

14 - UPS Next Day Air Early

08 - UPS Worldwide Expedited

07 - UPS Worldwide Express

54 - UPS Worldwide Express Plus

65 - UPS Worldwide Saver