Overview
Get started with the basics in Starshipit using our step-by-step guide.
Once you're comfortable, optimise your shipping with our more advanced features.
How Starshipit works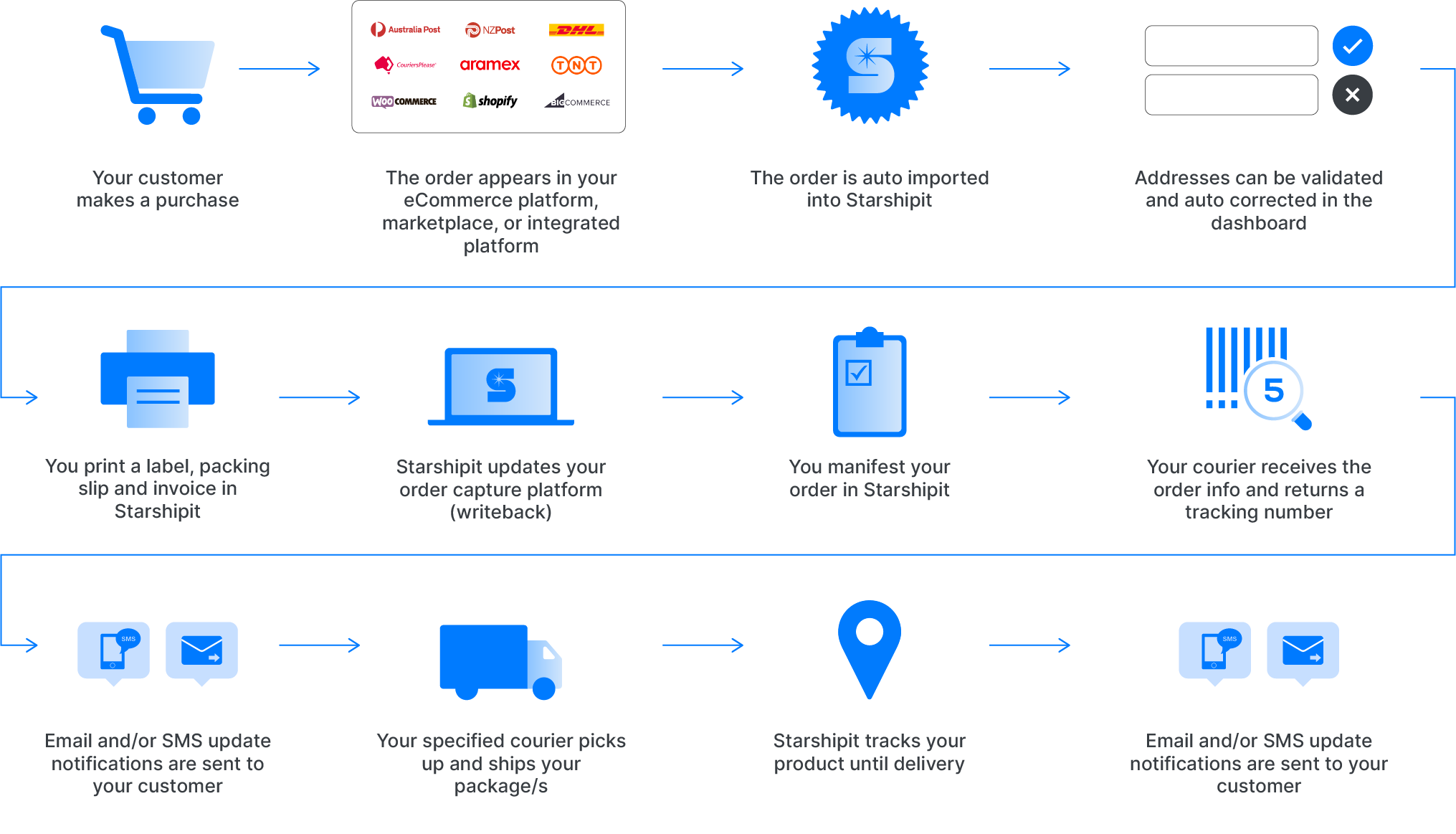 Getting started basics
Follow the key steps below to set up Starshipit.
1. Set your pickup address for orders
Enter your pickup address and contact details for courier collections. These details may be printed on labels depending on your courier and label format.
Go to Settings.
Select Pickup Address.
Enter your pickup address for collections.
Click Save.
2. Integrate your couriers
To start shipping, you can integrate one or more of your couriers or use our plain label option. You can do this through the Getting Started guide in the Starshipit app or follow step-by-step instructions for your specific courier.
3. Integrate your platforms
Integrate your eCommerce, WMS or IMS, or accounting platform with Starshipit. Choose from a list of 40+ platforms that integrate directly with Starshipit.
You can automatically import sales orders directly from your chosen platform or upload orders via a CSV file. You can also build your own integration using our API.
If you work with a platform that we do not integrate with yet, you can also use Zapier as a connector between the two platforms.
4. Set up Print Application
Starshipit automatically downloads a PDF when you print labels. Set up the Print Application for Windows or Mac so you can print labels and documentation directly to your printer.
Optimise your account - Advanced features
The best way to get started with Starshipit is to start printing labels by following the steps above – but there's a whole lot more you can do to optimise and streamline your shipping. Below, we've listed some of our other top features.
Validate incorrect shipping addresses
Starshipit can automatically detect invalid addresses, enabling you to fix them instantly. Even if a customer has entered the wrong details, the order will be delivered to the right place.
Choose write-back options
Starshipit automatically sends the order status, tracking number and courier name to your eCommerce platform or marketplace when a label is generated. This is known as write-back.
Your account settings default to write-back performing when a label is printed, however you can change this so write-back is performed on manifest or dispatch instead.
Set up boxes and import weights
When orders are imported you can configure default packages for your couriers. You can configure this in your Starshipit account: Settings > Package setup.
Create shipping rules
Starshipit can apply business rules when you import your orders. A rule can include multiple conditions and one action, and an infinite number of rules can be created.
Here are three of the most popular rules:
Assigning Shipping Methods Based on Destination: This rule allows you to automatically assign different shipping methods based on the destination of the order. For example, you might want to use a specific courier for all orders going to a certain country or region.
Setting Up a Default HS Code: If most of your products fall under the same HS Code, setting up a rule to assign a default HS Code can save you time. This rule will automatically apply the default HS Code to any items where the HS Code field is blank.
Assigning Shipping Methods Based on Weight or Order Value: These rules can help you automatically select the most cost-effective shipping method based on the weight of the order or the total order value. For example, you might want to use a cheaper shipping method for lighter packages or offer free shipping for orders over a certain value.
Print your packing slips
You can choose to print your packing slips in Starshipit or in your integrated platform, e.g. from within the Shopify dashboard. Choose whether to batch-print packing slips or print packing slips and labels together. You can set this up in the Getting Started wizard or go to your Starshipit account: Settings > Packing slip.
Set up branded tracking and shipping notifications
Use Starshipit to create a branded tracking page so you can engage with customers post-purchase and keep your brand front of mind. Then, set up and customise shipping notifications so you can send automated emails or texts at all five stages of the delivery process. You can do this in your Starshipit account: Settings > Customer Notifications.
Configure additional options for international shipping
If you are shipping internationally, you can configure additional options in your Starshipit account.
Go to Settings > Options. You'll then be able to configure:

Currency
Timezone
Default item description
HS Code
Country of manufacture
Set Imperial or Metric for measurements
Add users to your Starshipit account
Invite users to your Starshipit account and assign them specific permissions, allowing you to streamline your shipping operations across your team and maintain data security.
Set up: Multi-location, 3PL and WMS
Starshipit can be configured to support complex business processes including multi-location, multi-brand and drop shipping. To set this up you can add child accounts that are attached to your parent account.
For more information, see the support articles linked below:
Learn more best-practice ways to use Starshipit
Ready to optimise your shipping even further? Check out these other features: