Overview
Set up Royal Mail as a courier service in Starshipit.
Before you begin
Apply for a Royal Mail Online Business Account (if you don't already have one):
https://www.royalmail.com/discounts-payment/credit-account/online-business-account
Royal Mail will give you an Account Number and a Posting Location.
Once the above is set up, please pass the following on to Starshipit Support:
Customer / Company Name
Main Shipping Address
Contact Name
Contact Phone Number
Contact Email Address
Royal Mail Account Number

(starts with 3, 4 or 5, but then please add a 0 in front of that)
Royal Mail Posting Location

(location linked to RM Online Business Account, 10-digit, starts with 9)
Royal Mail OBA (Online Business Account) Email Address

(used to sign up for OBA with)
Return Name to Show on Labels

(if different from shipping address)
Return Address

to Show on Labels

(if different from shipping address)
Starshipit Support will then contact the courier to arrange access. The following will then be arranged, for populating in the setup page:
Application ID
Posting Location
NOTE: Please contact Starshipit Support to turn on Royal Mail as a courier service. The option is not immediately visible without their help, and there may be extra charges if you wish to use Royal Mail.
1. Enter your account details in Starshipit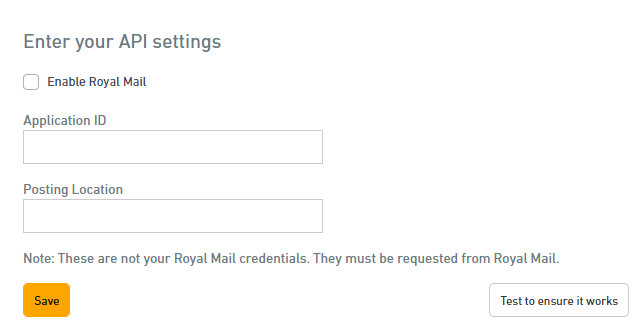 TIP Click Test to ensure it works to check if your credentials are working correctly.
2. Set up your product codes
Add your product codes to complete the integration. You can get a list of valid product codes for a destination address by using the product code finder tool in the tools tab. The most common product codes are:
BPL1 - ROYAL MAIL 1st CLASS

BPL2 - ROYAL MAIL 2nd CLASS

BPR1 - ROYAL MAIL SIGNED 1ST CLASS

BPR2 - ROYAL MAIL SIGNED 2ND CLASS

CRL1 - ROYAL MAIL 24

CRL2 - ROYAL MAIL 48

SD1 - SD GUARANTEED BY 1PM (750)

SD2 - SD GUARANTEED BY 1PM (1000)

SD3 - SD GUARANTEED BY 1PM (2500)

SD4 - SD GUARANTEED BY 9AM (750)

SD5 - SD GUARANTEED BY 9AM (1000)

SD6 - SD GUARANTEED BY 9AM (2500)

STL1 - 1ST CLASS ACCOUNT MAIL

STL2 - 2ND CLASS ACCOUNT MAIL

TPNN - ROYAL MAIL TRACKED 24 NO SIGNATURE

TPNS - ROYAL MAIL TRACKED 24 SIGNATURE

TPSN - ROYAL MAIL TRACKED 48 NO SIGNATURE

TPSS - ROYAL MAIL TRACKED 48 SIGNATURE
NOTE: Royal Mail doesn't pass rates into Starshipit, so they are not be displayed in the New Order page. You can set up table rates for Royal Mail though, where you record the rates that the courier charges you, and these are then available via the Starshipit API.

NOTE 2: Parcel tracking is not currently supported at this time (due to extremely high charges for this by Royal Mail). However, you can use their tracking page directly at https://www.royalmail.com/track-your-item#/