Australia Post OnDemand setup
Australia Post OnDemand offers a 3 hours delivery service, available within metro capital cities, for more information visit StarTrack website
Australia Post offers 3 different service codes:- Now, Tonight, & Saturday.

To set up Australia Post OnDemand you will first need to request an API key through the Australia Post developer portal, and then copy the details into the StarShipIT settings pages. 
1. Request your API key through the developer portal of Australia Post.
Follow the steps Here, in the first part please enter your Australia Post OnDemand account number in the Australia Post OnDemand field
 2. Enter your API detail in StarShipIT
In StarShipIT web Portal:
Go to Settings > Courier > Add New Courier > AusPost On Demand
Tick Enable AusPost On Demand
Complete the fields Account No, API key and Password with the information from the Auspost developer center
Set the pick-up time (The pick-up time is the time between the label printing and the pickup e.g, if i set 10min and print the label at 2pm the pick-up will be scheduled for 2:10pm) 
Tick Use API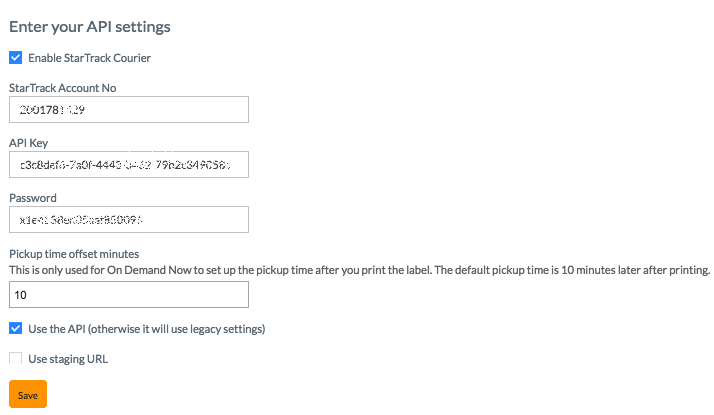 3. Set your product codes
Set your product codes as per the image below