Seko's integration with Starshipit allows you to use all of Starshipit's features including generation of packing slips and shipping labels, auto-correction of addresses, branded tracking and notifications and many more.
To set up Seko, request your API key from Seko Logistics Support. Once you have your API key, add it within Starshipit
1. Request your API key from Seko
Contact Seko Logistics Support by submitting a ticket here: online helpdesk, select OmniParcel, then include your account number. They will reply with your API key.
2. Add your API key in Starshipit
Open Starshipit and add your API key:
Go to Settings > Couriers > Add New Courier > Seko
Tick Enabled
Populate the Access Key field with the API key supplied by Seko
Click Save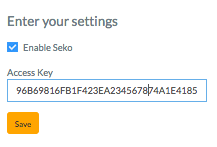 Note: There is no need to set up the Seko product codes that you use. Starshipit will automatically call Seko's systems and retrieve the available product codes when required. Default products can still be assigned via rules though.
Other relevant information for you:
To know more about APIs and their importance, click here