StarShipIT will return your contract rates at checkout, the contract rates are the pricing that you have negotiated with the courier company, they are electronically provided by the courier company to StarShipIT. 
This contract rates displayed at check by StarShipIT can be customised, you can hide service code, rename service code, add a margin on the contract rates or use our table rates system.
The first step to set up your rates at checkout is to activate the rates at checkout for your platform: Shopify, Magento, Magento2, PrestaShop*, WooCommerce.
StarShipIT supports live rates at check-out for the following carriers:
Australia Post eParcel
StarTrack
DHL Express
TNT
Fastway
Sendle
CouriersPlease
Toll Priority and Toll IPEC
Zoom2u
Seko Logistics
Hunter Express
CourierPost
New Zealand Post (only published rates)
* = Currently, only DHL Express rates at checkout are supported for PrestaShop.
1. Hide a Courier Company
Per default StarShipIT will display all the courier company available in your account if you want to hide one of them:
Go to Settings>Checkout rates
Tick the radio button "Disabled"
Save

2. Rename a service code
Per default StarShipIT will display the name of the service provided by the courier company, you can rename the service name in the StarShipIT backend
Go to Settings>Checkout rates
Complete the field "DISPLAY NAME" with the text you wish to see at check out
Save

3. Add a margin of my contract rates
In StarShipIT you can add a margin on top of your contract rates, it can be a flat rate (e.g. Contract rates + $5) or a percentage of contract rate (e.g. Contract rate = 5% of the contract rate)
Go to Settings>Checkout rates
Select the margin type Percentage or Amount
add the margin value
Save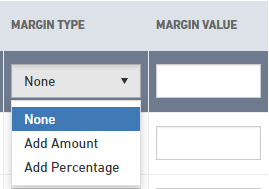 4. Set-up table rates
The last solution, if you are not happy with the rates returned by your courier company, is to create a table rates in StarShipIT, this table rates is like a rate card, it's matrix of location and weight.
For example
I'm based in Sydney and I would like to offer a cheaper rate to my customer based in New South Wales, but I still want the price to increase with the weight.
| | | | |
| --- | --- | --- | --- |
| Location/Rate | 0 to 5KG | 5 to 10KG | 10 to 20Kg |
| New South Wales | $5 | $10 | $15 |
| Rest of Australia  | $20 | $25 | $30 |

See the below for all the details.
The reference data to calculate shipping rates based on a combination of destination vs. weight conditions.
Product Code field is mandatory
Product Name field is mandatory
Country Codes field:

can be empty (applies to all country codes)
or specific to a list of country codes
or exclude a list of country codes

State Codes field:

can be empty (applies to all state codes)
or specific to a list of state codes
or exclude a list of state codes

Post Codes field:

can be empty (applies to all postcodes)
or specific to a list of postcodes
or specific to a list of postcode ranges
or exclude a list of postcodes
or exclude a list of post ranges

Shipping Rates field is mandatory

From Weight|Price
5|6.50
10|15.00
20|22.00
The above means:
Up to 5kg = $6.50
Over 5kg to 10kg = $15.00
Over 10kg to 20kg = $22.00