When fulfilling online orders in the store or when the warehouse is next to the store, its a great option to offer customers collect in store instead of paying for shipping.
StarShipIT offers a solution to manage orders that will be picked up in store:
During checkout, customers located in your area can opt to pick-up an order from the local store.
Once the customer has selected this option, the order will be imported into StarShipIT as "pick-up in store".
From StarShipIT you will fulfill the order and the order will be Completed in your e-commerce with "PICK-UP-IN-STORE" as a reference.

1. Enable Pick-up in store.

The first step is to enable "pick -up in store" as a fulfilment option in StarShipIT
Go to Settings > Courier > Add New > Pick-up in store.

Click Enable Pickup In Store.

Save

2. Set-up a rule to assign the "Pick-up in Store"
The second step is to add a rule to assign the order with the shipping method pick-up in store (taken from your eCommerce store) to the pick-up in store option in StarShipIT.
Go to Settings > Rules

Add new rules

Set the rule option as the screenshot (replace "Your pick-up shipping method" by the shipping method from your e-commerce platform)

Save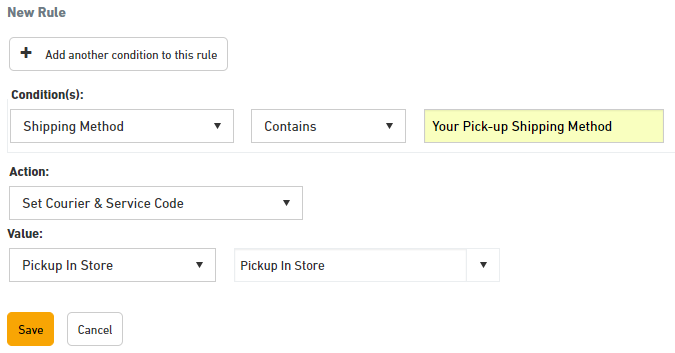 3. Set-up the email notification



The last step is to customise the email sent to the customer when using the pick-up in store option.
Go to Settings > Customer Notification.

Enable "The pick-up option email" and save

Click on email template to customise it.

4. Process a "pick-up in store" order
Your order should be automatically imported as Pick-Up in store, you only need to "Print" the order with the Pick-up in store delivery option. Then manifest your orders as you would normally to move the order from Printed to Shipped.