3PL Central provides the most popular Cloud-based WMS solutions available in the Third-Party Logistics and Warehousing industry marketplace.
3PL Central is compartmented by customers, it means that in addition to creating an account in StarShipIT you will need to create 3PL Child accounts for each of your customers, to do this you will need the Customer ID to specify which customer's orders you would like to import in StarShipIT. 
The first step to integrate with 3PL central is to request the 3PL Central REST API key via your 3PL Central account manager.
1. Request your REST API keys
Your account manager should give you the following information:
Please, refer to the chart to find the correct information.
| | |
| --- | --- |
| StarShipIt | 3PL Central |
| 3PL GUID | THreePLKey |
| User ID | Client ID |
| Password | Client Secret |
| Customer ID | CustomerID in 3PL Central |
2. Determine the customer ID for each customer
In 3PL central using the admin login get the customer ID from the settings
3. Enter Your API keys details and the customer ID in StarShipIT
Login to the StarShipIT platform and override the Child account that you want to set-up
Go to Settings>Integration> add new> 3PL Central.

Complete the fields 3PL Guid, User ID, and Password with the information provided by your account manager. 

Complete the customer ID field with the information related to the customer.

Click Save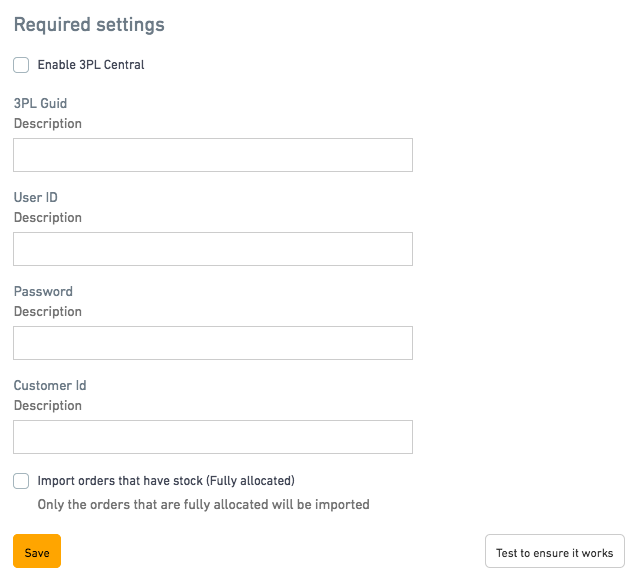 4. Import only orders that have stock
3PL Central can flag the orders that have available stock to be fulfilled, to import only these orders in StarShipIT you can tick the option "Import orders that have stock (Fully allocated)
After ticking the option you will have to remove and reimport your orders.