The following steps describe how to enter your Toll IPEC account details in StarShipIT.
Before starting you need your:
Account Number.
Dispatch ID (SYSID)
Prefix Code
Toll Online Username
Toll Online Password
The account number should have been given to you by your Toll IPEC account manager, the Dispatch ID and Prefix Code needs to be requested using the Toll IPEC PDF form.
1. How to request your Dispatch ID and Prefix Code using the Toll IPEC form
First, download the form.
The form is pre-filled with the information related to StarShipIT - you only need complete the information related to your Toll IPEC account and your location.
Once completed, click on Submit Request:
2. Complete your Toll IPEC information in StarShipIT
Once you have your Account Number and your Dispatch ID, open the StarShipIT web portal
Go to Settings > Courier > Add New Courier > Toll IPEC
Add your Account Number, Prefix Code, Toll Online Username Toll Online Password and Dispatch ID
Add your product codes (there is a reference for these in the page's left-hand help section)
Click Save
Note: The increment number only needs to be changed if you are setting-up a Multi-location account, or using a Dispatch ID that has been used in the past. For assistance, contact support@starshipit.com.
Note 2: The Toll Online credentials only giving you access to the live rates, you can print labels without them, as they are not used for labels.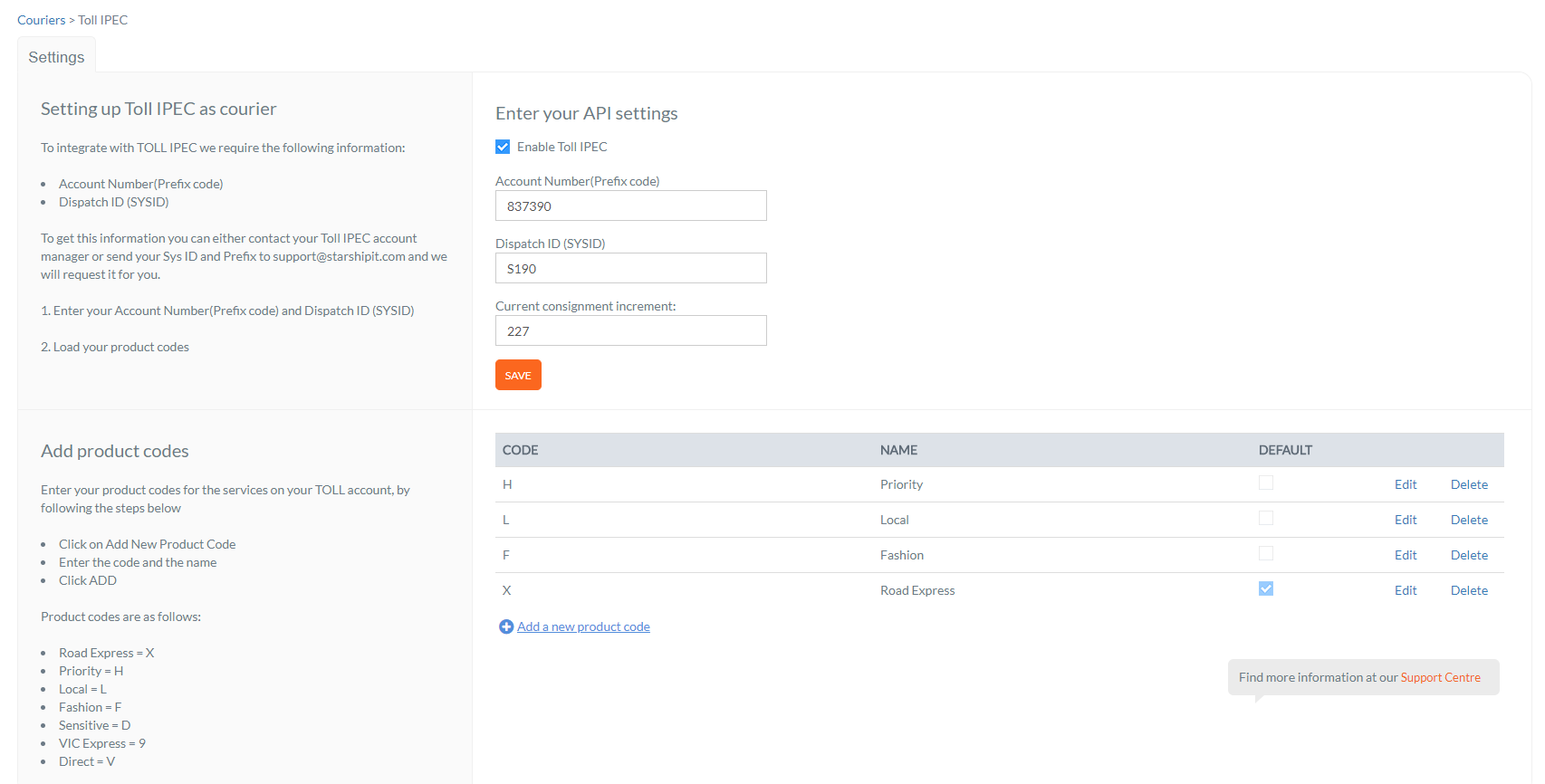 3. Add your SSYD to the StarShipIT feed
StarShipIT can capture the delivery events from Toll IPEC and can, for example, send an email when a parcel is delivered.
You simply need to request this from Toll's IT service desk at it.servicedesk@tollgroup.com.
In the body of the email, advise Toll that you wish them to add the Toll customer with the included credentials to the StarShipIT event feed.
Include the following fields:
-  Name
-  Account Number
-  SYSID