Live rates at checkout for WooCommerce
StarShipIT offers shipping rates at checkout for WooCommerce, which means that when your customer reaches the checkout page StarShipIT will return a shipping quote.
StarShipIT uses the destination address and the total weight of the cart to electronically return a quote for each of your couriers.
Your customer can select the preferred shipping method and the order will be imported into StarShipIT with the selected shipping method.
To display rates at checkout you will need to download and install the StarShipIT plugin. 
StarShipIT supports live rates at check-out for the carriers listed in the article here.
1. Download the plugin:
The plugin is available to download here: Download here
2. Install the plugin:
The StarShipIT plugin must be installed on WordPress, however the settings are available in WooCommerce:
Log on your WordPress backend.
Go to Plugins > Add New
Upload the extension file and Click Install now
Note: Don't Forget to activate the plugin.

3. Create your API key
To link StarShipIT app and WooCommerce you will need to copy/paste the API key from StarShipIT in WooCommerce.
Go to StarShipIT web portal (app.StarShipIT.com)
Go to Settings > API
If the API key field is blank, click on create otherwise just copy the API key
4. Add your API key in WooCommerce StarShipIT app
Go to the backend of your WordPress.
Go to WooCommerce Settings > Shipping > StarShipIT Shipping Rates tab
Paste the StarShipIT API key and save.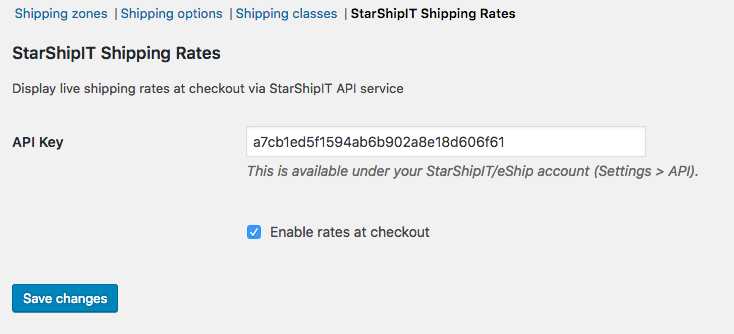 5. Configure your rates
Now your courier rates should pop-up in your WooCommerce checkout. To change the display name or remove some services go to StarShipIT and use Settings > Checkout Rates.