Packing Slips can be found in your StarShipIT account>Settings>packing slips.
Packing slips are typically printed in an A4 format and contain a description of your order: Item description, Quantity, Stock, etc. 
Here's how StarShipIT customers generally use packing slips:-
Once the orders have been imported, the Warehouse Manager will bulk print the packing slips
A dispatcher will take a packing slip and pick the items listed
They will then scan the barcode on the packing slip to find and print the relevant label in StarShipIT
There are two options available for packing slips, the default packing slip or a custom packing slip:-
1. Default Packing Slip
The Default packing slip is used unless you enable the custom packing slip.
The default packing slip can be printed in two ways:
A4 format 
100*150 format, you can set configure this to automatically print with each label (To select this option, tick "Print Packing Slips with each label" and Save)
NB: The 100*150 format cannot be customised

2. Custom Packing Slip
You can configure your own custom packing slip using the following fields:-
Title of your Packing slip 
Select Enable 
Enter your PACKING SLIP (or whatever you want to display)
Save

3. Custom Logo
You can add your brand logo on the top left corner of the packing slips.
Select "Use Custom Logo"
Select your logo from your computer (formats supported are: xxxxxx)
Save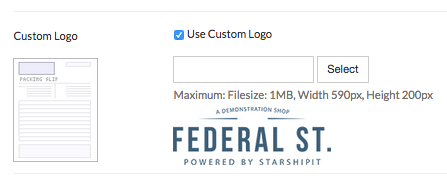 4. Display Custom Text 
You can display your brand name in the top right corner of your packing slip
Select "Display Custom Text or Username"
Enter your Brand name (or whatever you want to display)
Save


5. Delivery Instruction
You can choose whether or not to display the delivery instructions on the packing slip. The delivery instructions are usually displayed on the label to provide clear instructions to the driver about where to leave the parcel. e.g. please leave the parcel at the front door.

Tick "Display Delivery Instructions"
Save
6. Items Grid 
The items can have multiple variances associated with them e.g. Size, Colour, Location etc.
Select the column you want to display on the Packing Slip using the arrows
Save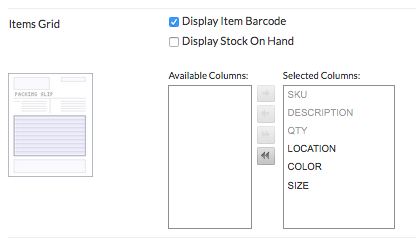 7. Footer Content 
You can add a footer to the packing slips, this can be used for including a Thank You Note or instructions about returns.