Setting up boxes and importing weights
Boxes are a powerful feature that you can set up within StarShipIT to further automate your shipping process's. By creating a set of predefined boxes that you use on a daily basis you will save time and reduce errors when you print your labels, orders will be automatically allocated to the correct box and labels can be created without having to manually enter in dimensions or weight for each item.
No matter how you ship we have a box for you!
Boxes can be set up based on a combination of your courier rates, the size and/or weight of what you ship. You can create boxes for Flat Rates, Dead Weights, Satchels or commonly used boxes. eShip makes it super easy to accommodate they different  ways you ship. Boxes are easy to set up however it is important to get it right because boxes can impact the way your courier will bill you.
Changing your box set up can result in extra charges by the courier companies. Please ensure you enter the correct information when you set your boxes up. If in doubt talk to your Account Manager who can give you more guidance based on your business needs.
1) Setting up your boxes
You can enter one or more pre-set boxes to select during the shipping process and you can set your account to import the weights of your items from your eCommerce platform (only available for eCommerce platforms that allow for weights to be added).
To create a Box select: Settings > Package Set Up
Enter the following dimensions 
Height (m)
Width (m)
Length (m)
Weight (m)
NOTE
 all linear dimensions are all entered in
metres
- e.g. 10 cm would be entered as 0.1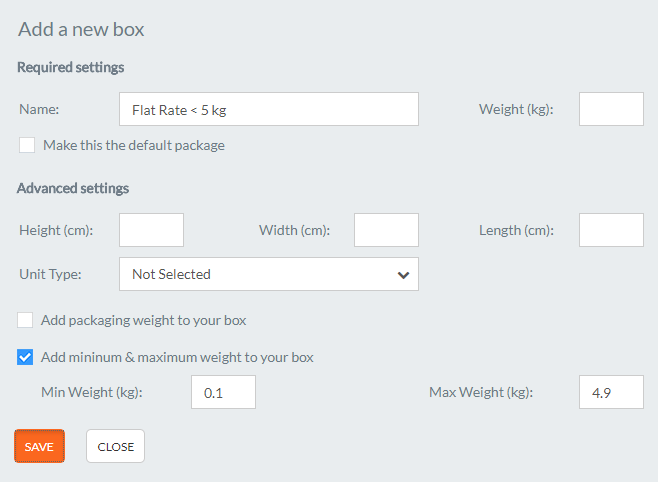 You may choose a default box.  This box will be selected each time you open the shipping dialog.  You can then choose any of the other boxes from the drop-down menu.  In addition, you can edit any of these dimensions on the fly during the shipping process.
2) Importing weights from your integrated platform
To automatically import the weight of an order item from your eCommerce platform select: 
Settings > Package Set Up
Click the Automatically calculate the package weight from order items check box. While selected, this will extract any available weight information for any imported orders.
When importing weights, StarShipIT will apply a total weight to the order. This total weight is the combined weight of all the items in the order. This feature requires an eCommerce platform that allows for item weights to be added into the system.