The below is for setting up StarTrack. If you are interested in StarTrack Courier / AusPost OnDemand please refer to this article.
Before starting you need your:
StarTrack Account number
StarTrack API key
StarTrack API secret
If you are missing any of these credentials follow these steps:
How to request your Australia Post API keys
1. Add the API in Starshipit
Go to Settings > Carrier > Add a new courier > StarTrack.

Tick Enable StarTrack.

Complete Account Number, API Key, and Password (API Secret).

Click on Lookup to get your MLID.

Save.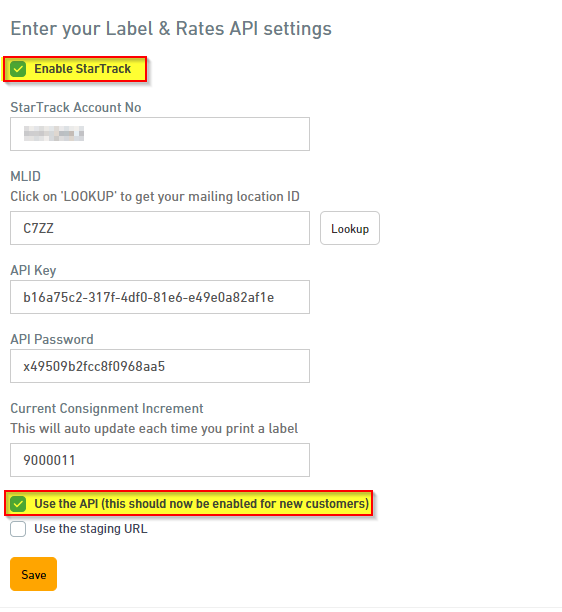 2. Add your product code.
To complete the setup of StarTrack you need to enter your product codes. If you don't know your product codes contact your StarTrack Account Manager.
Click on "Add a new product code".
Fill Product code with the specific code given by StarTrack.
Fill the Name field with whatever makes sense to you. e.g. "Premium" for the PRM service.
Click Add.

3. Troubleshooting
When I click "Lookup" the response is ": : The request failed authentication" or something similar.
This means your account hasn't been activated properly.