Overview
Set up a Plain Label for orders that do not require a specific courier service, or for users without a courier service account.
You can configure five Plain Label's per StarShipIT account
Only printed customer notifications are available for a Plain Label.
Set up a Plain Label
Go to Settings, then select Couriers.
Click Add a new courier.
Under Other, select Plain Label.
Select Enable a plain label.
Enter the name of your carrier.
Enter a tracking URL.
This sends a customer notification with a tracking URL when you print a Plain Label.
(Optional) Specify a custom message to write back when there's no tracking number.
Enable this option and add a tracking number to the order. This tracking number will be written back in the eCommerce platform.
Alternatively, you can add a default message in this field instead eg Non-trackable.
Select a paper size.
The most common is 100x150 which is the same size as courier company labels.
Click Save.
Plain Label advanced settings
Enable Postage Paid Stamp for Australia Post or Enable Postage Paid Priority Stamp for Australia Post
Add the postage-paid or postage-paid Priority stamp to your label. This logo will automatically be displayed on every label.
Authority To Leave
Allow your parcel to be left somewhere safe, without a signature.
Signature Required
A signature will be required upon delivery.
Plain Label example

You are using a local courier which only provide Prepaid Satchel. Follow the steps to process orders using the plain label for this courier.
Go to Settings, then select Couriers.
Click Add a new courier.
Under Other, select Plain Label.
Rename the Plain Label with the name of your local courier.
Add the tracking URL of the courier company.
Enter additional details.
Click Save.
Process your order using the Plain Label
Select Plain Label - MyLocalCourier.
Enter or scan the tracking number on the satchel in the Tracking field .
Click Print Labels.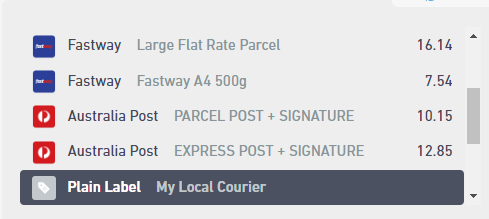 StarShipIT will generate and send a plain label to your printer. Your customer will receive an email with all the information they need to track their parcel.
You can print a packing slip for plain label orders the same as you would with an integrated courier service.