Overview
Before you begin
You need your:
DHL eCommerce account numbers (PickUp and SoldTo)
DHL eCommerce Dispatch ID
Product codes
If you don't have these credentials, please contact our support team at support@starshipit.com with your DHL eCommerce account number, or contact your DHL manager to request this.
1. Add you DHL eCommerce details in Starshipit
Go to Settings > Couriers > Add new > DHL eCommerce.
Complete the fields Pick-Up, Sold-To and Prefix code with your details.
Select Use the API to generate Labels and Manifest.
Select Enable DHL E-Commerce.
Click Save.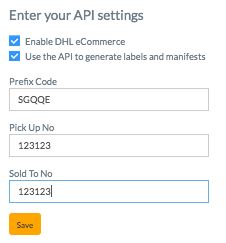 2. Set up your product codes
Add your product codes to complete the integration.
Click Add new product codes.
Fill in details as required.
Click Add.