To add your DHL eCommerce account to StarShipIt you need the following:
DHL eCommerce account numbers (PickUp and SoldTo, in most case they are the same)
DHL eCommerce Dispatch ID 
Product codes
If you do not have these credentials then please contact our support support@starshipit.com with your DHL eCommerce account number or contact your DHL account manager saying you need your want to use StarShipIt with DHL eCommerce
1. Add you DHL eCommerce details in StarShipIT
Go to Settings > Carrier > add new > DHL eCommerce.
Complete the fields Pick-Up, Sold-To and Prefix code with your details.
Tick Use the API to generate Labels and Manifest.
Tick Enable DHL E-Commerce.
Click Save.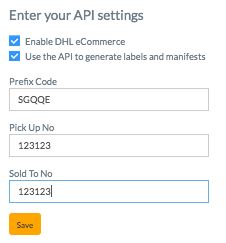 2. Add your product codes
Click add new product codes
Complete the code and the name
Click 'Add'