If your eCommerce platform is not on the list of supported platforms you can extract your orders from a CSV file and import it into StarShipIT.
The following steps will help you to map your CVS file to StarShipIT, and once completed, your orders can be imported into StarShipIT.
See bellow the different requirements for your CSV file
You must add one piece of data per column
You must add one item per line (if two items in one order, you will add two lines with the same order number)
Order numbers must be different from each other.
1. How to set-up you CSV import
In Settings > CSV File Setup you have three choices:
a. Use StarShipIT template.
Once this option is selected you have to follow the StarShipIT template; download the StarShipIT template containing default field mappings here). 
b. WIX Template.
StarShipIT created a template, especially for WIX. if you are using Wix you can extract your orders from WIX and import them in StarShipIT using CSV all the datils can be found here: Import WIX orders
c. Re-mapping the column of the CSV file
You can also use your own CSV and map the column in StarShipIT, the mapping interface is composed of two columns the column on the left represents all the field available in StarShipIT and the column on the right represents your CSV file. 
You need to drag and drop the labels so the label on top will be the first column of your CSV file and the second label will be the second column of your CSV file, etc. don't forget to save when done.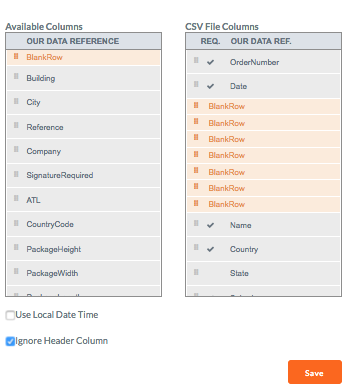 2. Importing using CSV files
Go to Unshipped > Import > Upload CSV File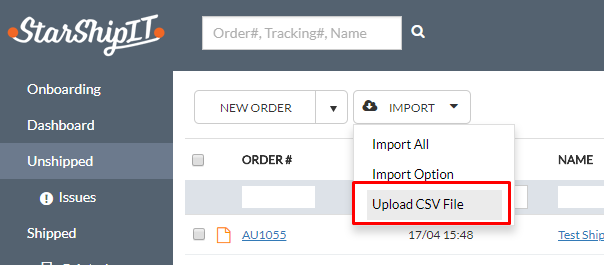 Select a CSV file from your computer and Click import CSV. When the import is completed click close.