Unleashed Integration
Overview
The steps below will guide you through integrating your Unleashed platform to Starshipit. Once completed, your orders will be imported into Starshipit and the tracking information will be written back when you print a label.

Unleashed require an extra step to activate the write-back functionality - please follow the instructions here: Unleashed-Order-update

There are two versions of Unleashed, Classic and Enhanced. We recommend using Enhanced as this has support for importing sales shipments rather than sales orders.
What you need to get started:
Before getting started with Unleashed you will need a few things.
How to set up Unleashed:
To enable Unleashed on your account:
Go to Settings > Integrations > Add a new integration > Unleashed
Tick Enable Unleashed
Select Enhanced from the Integration Version toggle if you are raising shipments in Unleashed. Select Classic if you would instead like to import Sales Orders

Classic is now deprecated
Enhanced allows for importing orders as different shipments from Unleashed.

Enter your Unleashed Id and User Key.
Click Save to save your changes.
Test the connection, you're good to go!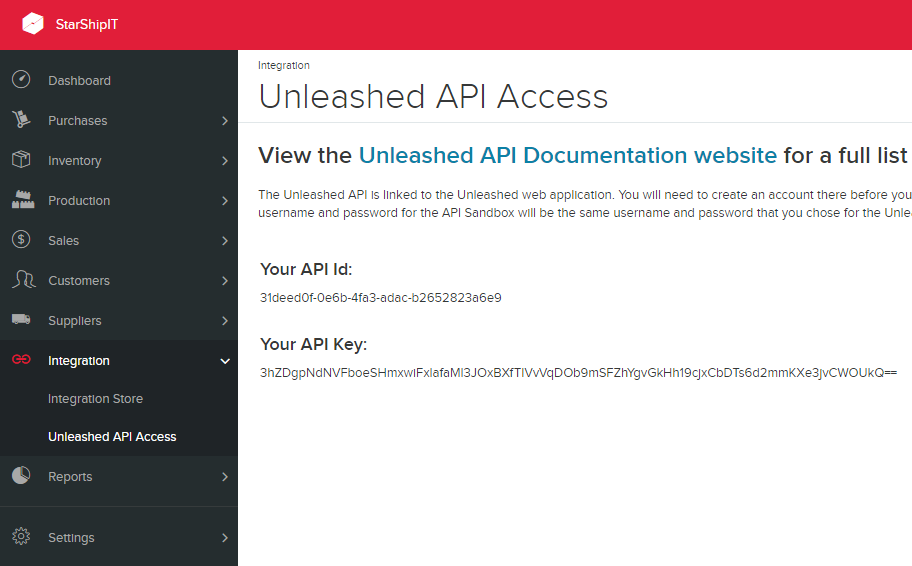 Additional Configuration
Unleashed offers more customization over how and when you import your orders. To configure them please see below:
1. Navigate to **Settings **> **Integrations **> **Unleashed Settings.**
2.
Status to import

Use this option to select what status orders should be in to import into Starshipit
Never Diminishing Products

If you use never-diminishing products with Unleashed, we recommend enabling this setting to mark the order as "Complete"
Multi Sales Shipments

If you have multiple sales shipments on a single order, all of the sales shipments will import into Starshipit when using Enhanced. Each one will be one order in Starshipit. You can then move the sales shipments around and only ship the shipments that you need.
Set freight/shipping cost

We've now added support for specifying what item is the freight charge, and removing it's cost from the declared value.
1. In the "**Set freight/shipping cost**" section, specify the item name for the Shipping charge item (e.g., Shipping;Freight).
2. Click **Save**.
3.. This setting applies during import, ensuring that all new orders exclude these items as line items, accurately reflecting the freight cost.