The New Zealand Post integration includes the international services only. If you are looking for Domestic services you need to use Courier Post.
To integrate NZ Post with StarShipIT, you need:
NZ Post Account Number
NZ Post Site ID
NZ Post an API key
NZ Post API secret
The first two should have been given by NZ Post when you opened your account.
To obtain the last two you have two options:-
Option 1 Request API Key via NZ Post Developer Centre
Complete the registration form about halfway down this page, https://www.nzpost.co.nz/business/developer-centre, there is a "Register for Commercial Access" button that will take you to the form.
Once completed you will receive a verification email. Once you have verified the account, you will receive an API key from CourierPost within 24 hours. 
Option 2
Send your account number and Site ID to support@starshipit.com
1. Add your account details in StarShipIT
Go to Settings > Carrier > add new > NZ Post > Options tab
Tick Enable NZ post
Complete only your Account number
Tick "Print International Labels using API"
Save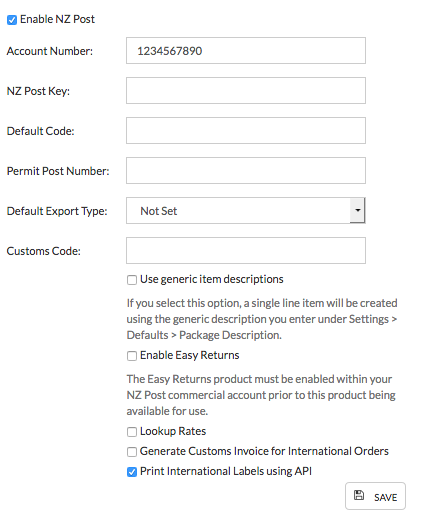 Go To the New API tab.
Complete the two first line with you StarShipIT Password and StarShipIt Username
Complete the API fields with your API information
Click Save.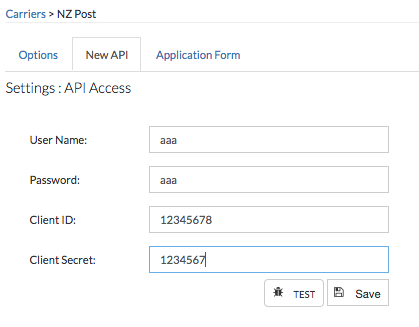 2. Test your Account
In the New API tabs you will find a Test button. Press this button and if it return valid accounts you are good to go.
Note: You will find a Test account link on the option tab. This will not work.

3. Add new Product codes
Go to Settings > Carrier > NZ Post Setting > Option Tab
Select your new Product Code in the Dropdown menu
Click Add
The new product code is now added.

4. Troubleshooting
If the test returns invalid accounts
Double check the credentials and check for incorrect spaces