Firstly request an API key from Fastway
Then send an email to support@Starshipit.com containing:
Your Company name
Fast Label login email address
API key
StarShipIT will send this information to Fastway to get your account activated, and once this is done we will notify you.
Alternatively you can follow the below steps to activate and set up Fastway yourself.
1. Enter your API details
In your StarShipIT account, go to Settings > Carriers > Add Courier > Fastway
Select the enable Fastway check-box
When your API key is created, a User ID is also created in the Fastway system. You need to enter the User ID into StarShipIT along with the API key
If you know your API key but not your User ID, we have a lookup feature on the Fastway settings page to make this easier. Simply click 'Get Users For Key' to find your user key. Click Save.
 If your account does not have the correct privileges activated you may receive this error.

To solve this send an email to fso.helpdesk@fastway.com.au (for Australia) or tim@fastway.co.nz (For New Zealand) and request that your account be accessible. Once they reply, go back to the integration page and click 'Get users for key' again.
If successful, the result should look like this.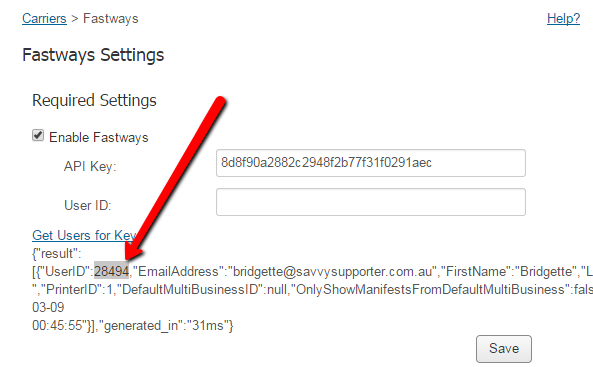 Copy the ID (shown by the red arrow) into the User ID box and click 'Save'
2. Add the product codes.
To complete the Integration you will need to add in your Product codes.The available product codes are as follows.
Parcel = 1
Satchel A2 = 4
Satchel A3 = 5
Satchel A4 = 6
Satchel A5 = 7
Small Flat Rate Parcel = 16
Medium Flat Rate Parcel = 17
Large Flat Rate Parcel = 18
e.g. If you want to add a new product called "Parcel"
Go to Settings > Carrier > Fastway Settings
Click add product code
Enter the information and save.