CouriersPlease's integration with Starshipit allows you to use all of Starshipit's features including generation of packing slips and shipping labels, auto-correction of addresses, branded tracking and notifications and many more.
To integrate CouriersPlease with your Starshipit account, you need to have an EDI (Electronic Data Interchange) account. If you don't have one, simply contact your CouriersPlease account manager.
To complete the setup steps, you will need:
1) CouriersPlease account number (9 digits)
2) Dispatch ID
3) Product codes associated with your CouriersPlease account.
4) (optional, used for booking pickups and creating returns) API Key
If you are missing any of these, contact your CouriersPlease account manager or contact Starshipit support with your account number.
Setting up your CouriersPlease account in Starshipit
1. Enter your CouriersPlease information in Starshipit
Go to Settings > Couriers > Add New Courier > CouriersPlease
Tick Enable CouriersPlease
Complete the account number and dispatch ID fields
Click Save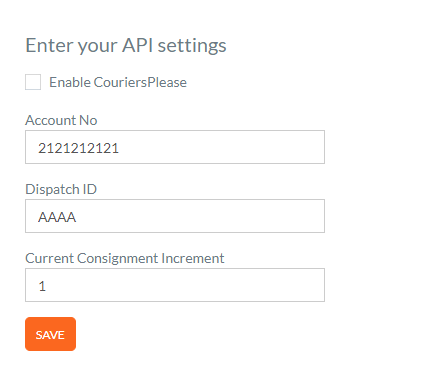 2. Enter your product codes
CouriersPlease will provide different product codes based on your requirements and account eligibility. Product codes for shipments need to be populated similar to the following, and these products will then be available throughout Starshipit.
Go to Settings > Couriers > CouriersPlease
Click on Add Product Codes
Enter the Code and Name
Click Save

3. Enabling Returns
Ensure you have added an API key to your settings

Enter in the Return Product Codes in Settings > Couriers > Couriers Please >
4. Troubleshooting
Q. Why are the rates displayed in Starshipit incorrect?
A. Rates are retrieved, based on the product codes. Check with CouriersPlease that the product codes you are using are correct.
Other relevant information for you:
To know more about ecommerce shipping services by CouriersPlease, click here