To integrate CouriersPlease to your StarShipIt account you need to have an account with EDI (Electronic data interchange). If you haven't got one simply contact your CouriersPlease manager.
To complete the steps you will need your CourierPlease account number (9 digits), your dispatch ID, and the product code associated to your CouriersPlease account.
If you are missing one of those, please contact your CourierPlease account manager or contact the StarShipIt support with your Account number.
1. Enter your CouriersPlease information in StarShipIT
Go to Settings > Carriers > Add Courier > CouriersPlease
Tick Enable CouriersPlease
Complete the field with your CouriersPlease account number and dispatch ID.
Click the save button.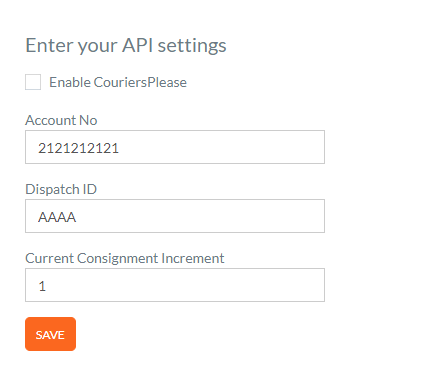 2. Enter your Product Codes
CouriersPlease will provide different product codes based on the requirement of the customers and account eligibility. Product codes for shipments need to be updated here and these will be available on the ShipIT Shipment screen.
Go to Setting > Courier > CouriersPlease
Click on Add Product codes
Enter the Code and the name
Click Save

3. Troubleshooting
Q. My rates displayed in StarShipIt are incorrect?
A. The rates are based on the product codes. Please check with CouriersPlease if the product codes are correct.