TradeGecko Sunsetting
Quickbooks have announced that QuickBooks Commerce standalone (formerly TradeGecko) will no longer be available starting on June 10, 2022. Starshipit has also ceased support for this integration inline with this announcement.
If you're looking for a new Inventory Management System, check out our recommendations here.
1. Open Settings page
In the StarShipIT main menu Click on Settings > Integration > Add New.
Select TradeGecko from the 'Add Integration' List, and you will be directed to the TradeGecko settings page.
2. Enter your Quickbooks Commerce (TradeGecko) credentials
Tick "Enable" and then click "Authorise" and you will be taken through to Quickbooks Commerce (TradeGecko) where you can authorise our application and then you will be returned to the StarShipIT site.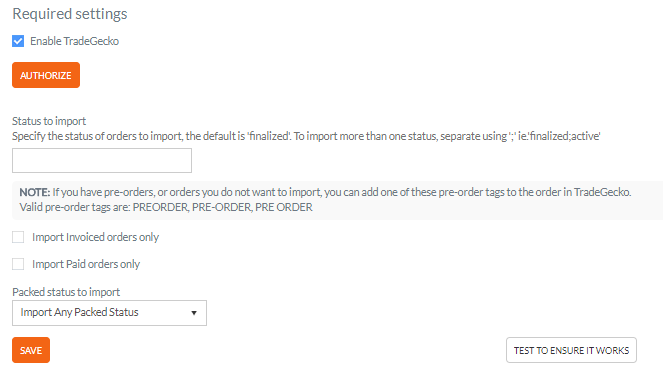 3. Import your orders
You are now ready to import your orders from Quickbooks Commerce (TradeGecko). Click the "NEW" tab at the top of the page in Starshipit. Once you are on the shipments page, click the Import button, select TradeGecko and the number of days you wish to import. Then click the 'Import' button at the bottom right.
After a brief load time, it will display the number of imported orders. Click 'Close' and it will re-load your shipping page with the newly imported orders. You should now see your shipments.
4. Notes
Starshipit has the following features currently available for its Quickbooks Commerce (TradeGecko) integration:
Writeback
Partial Shipments
Import Weight
Import multiple order status
Item descriptions
Not supported:
Import dimensions
Live rates at checkout
Allow multiple integrations
Add-on Extension or App.
Automatic Import:
Starshipit can automatically import your orders from Quickbooks Commerce (TradeGecko) every 20 minutes or you can run a manual import as often as you like by clicking the "import" button on the Ship screen.
Once the orders are imported you can sort and filter the orders however you like.