Starshipit can send text messages to your customers to notify them about the delivery status of their parcel. You can choose which delivery status the text will be sent, and the content of the message.
1. Select the status you want to send an SMS.
Starshipit can manage a different text message for each different delivery status. Starshipit will trigger an email only for the checked status.
Go to Settings > Customer notification.
Enable the checkbox of the different status.
Click Save.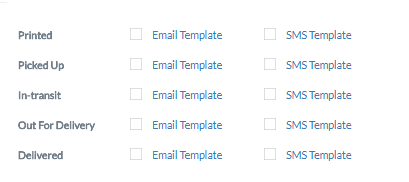 2. Edit the SMS template

Go to Settings > Customer Notification
Click on "SMS Template"
Once in the editor, you can modify the email template as required.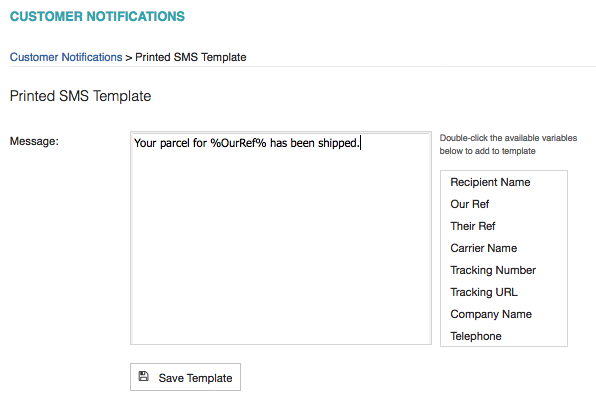 3. Use the Starshipit Variable.
Use Starshipit variables to personalise your email and include information about the order- Tracking number, Tracking URL)
See below the description of the different Variables:
Recipient name: The name of your customer
OurRef: Sender's reference (e.g. sales order number)
TheirRef: Addressee's reference (e.g. purchase order number)
Carrier Name: The carrier used to ship the parcel
Tracking number: Tracking number associated with the parcel
Tracking URL: Tracking URL associated with the parcel
Company Name: You Company name
Telephone: Your Telephone Number
4. Activate your SMS account.
Go to Setting > My Account > SMS
Enter your credit card details and save.
Enter a credit amount and click Add Credit.
An SMS will be sent until the credit balance is positive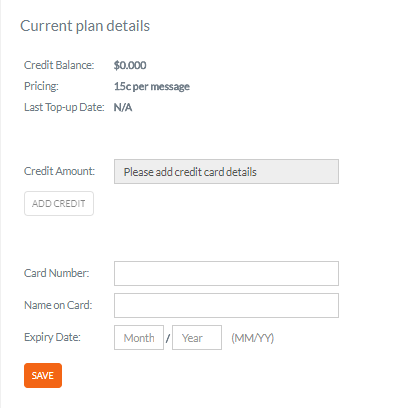 Many ecommerce platforms (including Magento) include notification options that email customers when the status of their order has been updated. If you have opted to write back the status to your ecommerce platform, you may need to consider whether your customers are receiving duplicate notifications and then to enable/disable notifications, as required.
The maximum character limit for text notifications is 160. If you exceed this limit, the notification will be treated as two or more text messages.