How do I get my Account Number, API Key and API Secret from Australia Post/StarTrack?
Getting Started
In order to integrate your Australia Post account with StarShipIT, you need to generate an API key and secret in the developer centre of Australia post. 
This process includes 2 steps, in the first step, you will register your interest for the API services and in the second step you will generate your API key and activate the Secret for your username and password.
To generate the API key and secret you need to know:
Australia Post account number (eParcel) or your Startrack account number
NOTE: To use this integration, you will need to have an Australia Post Business Credit Account and an eParcel Contract.
If you do not yet have an account, please email customer_connectivity@auspost.com.au to indicate your interest. In your email, please mention that the digital platform you are using is "StarShipIT".
1. Register your interest
In the first step, you will create an account in the Australia Post Centre and register your interest.
Complete the information and click "Create Account"
Login to your freshly created account
Select "Register now for an API key"
Complete with your Startrack account or your Australia Post account
Select the different checkbox (see screenshot)
Choose StarShipIT and enter your state of origins
And send your request
The first step is now completed, you must wait for the Australia Post email to start the second step. (it usually takes 24h)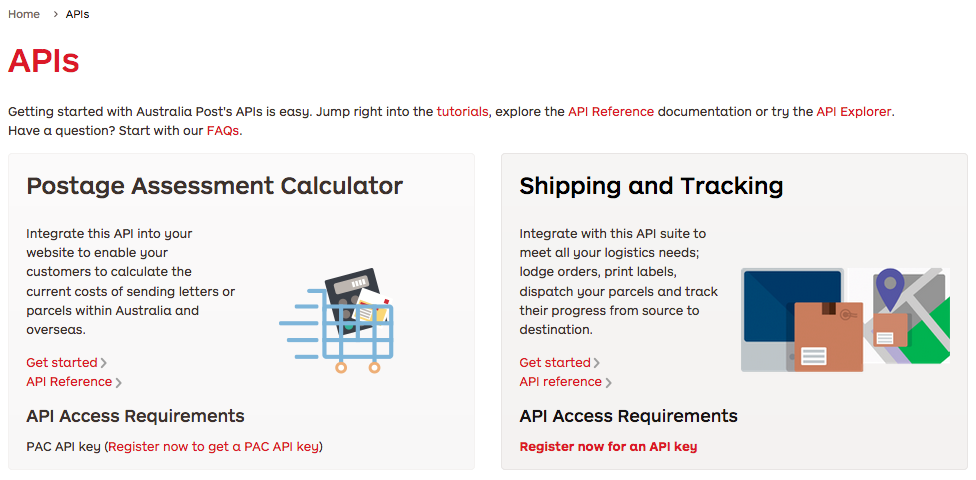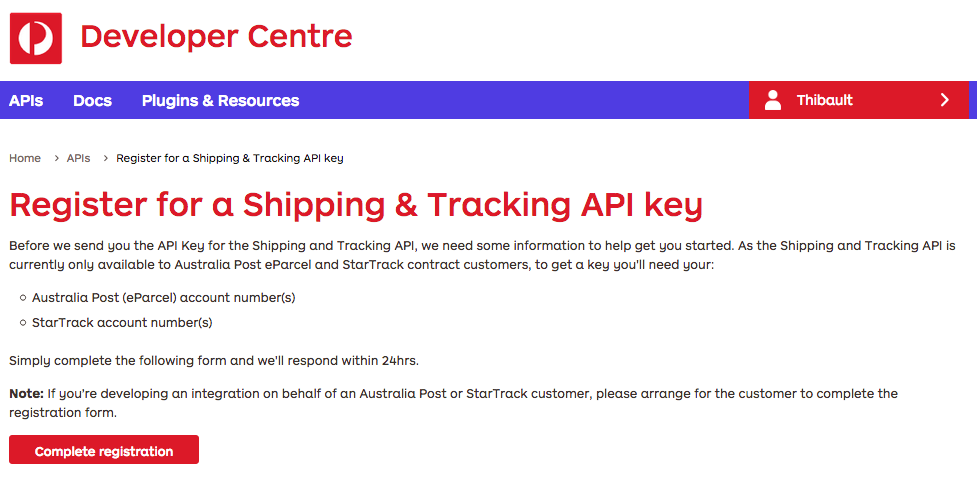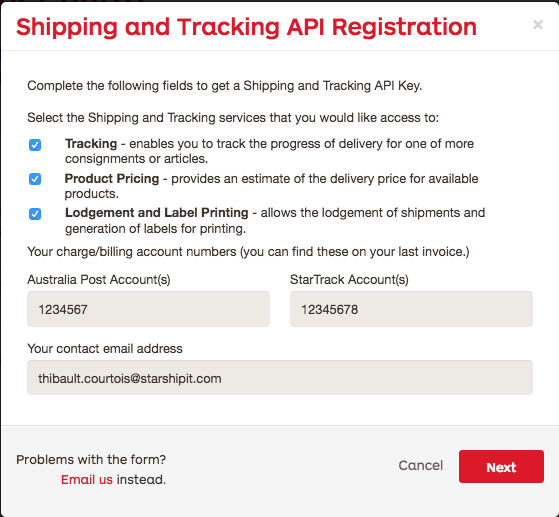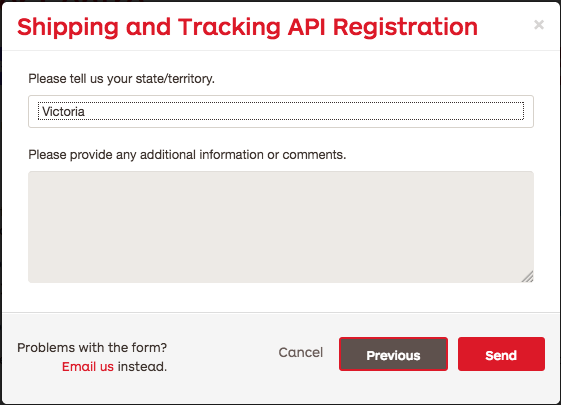 2. Generate your API keys
StarTrack: For StarTrack users, the API key and secret will be sent by email directly, and you-you won't need to complete the second step. However, if you use StarTrack and Australia Post you must complete the second step.
NOTE: Before starting the second step you should have received the API invitation in your email inbox. If you haven't received it in the 24 hours preceding the completion of the first step please check your junk box or contact
In the second step, you will create a project, generate the API keys for this project and activate the API services.
You need to start by creating a new project
Click on Project > Create New Project. (if Project is not visible, wait for the confirmation email from Auspost.)
Add a project name and select your organisation
Click Create project.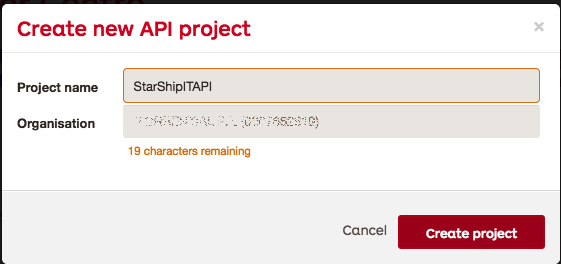 Generate the API keys
Click on API Access > Create a Key.
Enter a Key nickname and enter a Secret.
Click on create a key.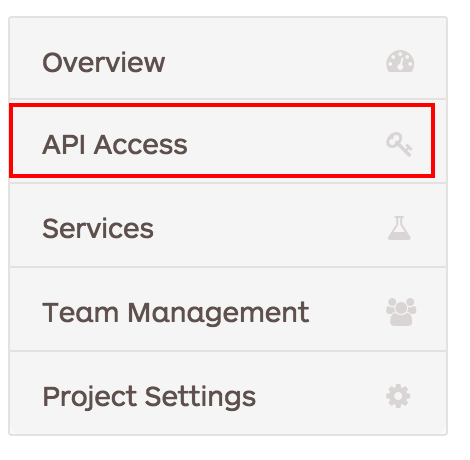 To finish you need to activate the different services of the API.
Click on Services.
Turn all the services on for the newly created project.
Click Update.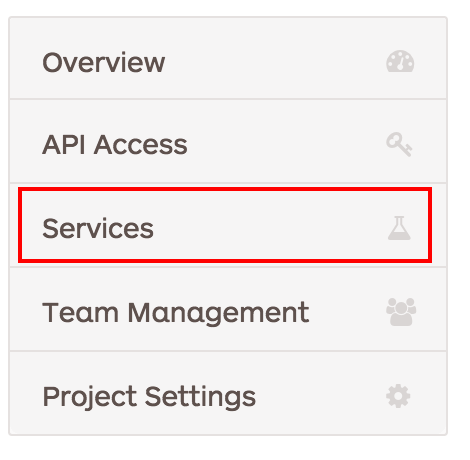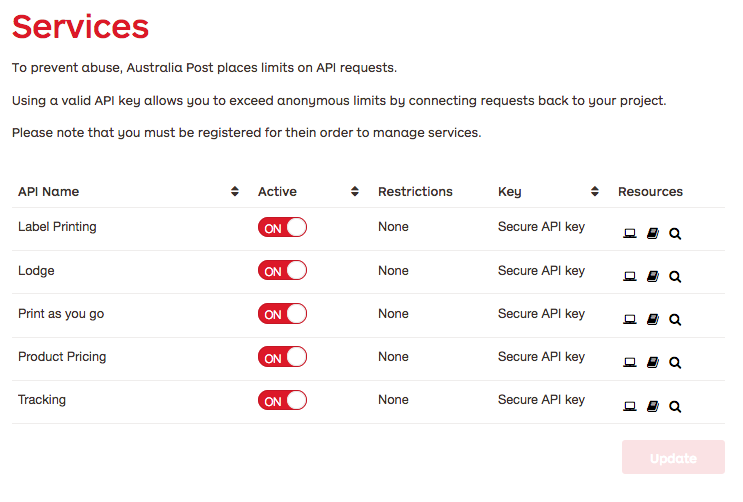 3. Send the information to StarShipIT
Send the following information to StarShipIT
API Key
Secret
eParcel account number
Trouble Shooting
If you need help you can contact Australia post Service Desk by email:  customer_connectivity@auspost.com.au or by phone 03 91067232 or 02 8755 9417