If you dispatch from multiple locations, you can use child accounts to fulfill your orders.
To use the child account feature you must be on a Professional or Enterprise plan.
There are 2 different type of child accounts available, depending on your business requirements
Multi Location/Drop Shipping
3PL Account
Multi Location & Drop Shipping
Multi-Location logins are used when you have either multiple business locations that need to ship, or you ship on behalf of multiple businesses and wish to bill shipping costs to their courier accounts.
Multi-Location users function almost entirely separately to the parent account in that they have their own address, carriers, package sizes, printer settings and address book (although they can share this with the parent if needed). They cannot create integrations or customize notification emails.
Here the steps you need to follow to add a new location to your existing StarShipIT account.
Go to Settings>Child Accounts> Add Child Account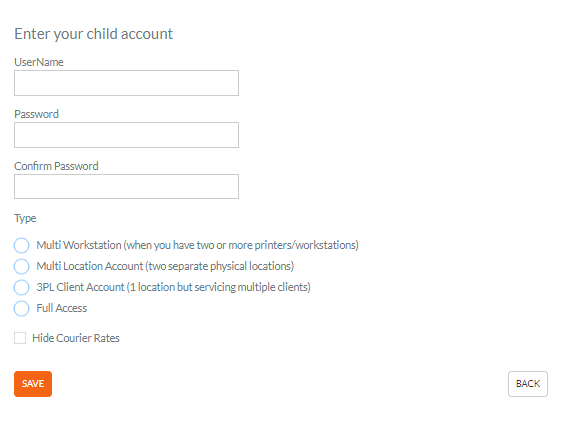 Enter a username, a password, select Multi Location Account radio button and save
From now you need to add the information relative to your new shop: Pickup Address, Courier details, Printing parameters.
Pickup Address: Go to Settings>Pickup Address 
Couriers details: For Fastway and Australia Post you need to get new login details. For all other courier company you can copy and paste the information in Settings>Carrier.
Printing Parameter: You need to set up the printer of the new location.  
You should now have two logins one for you main location and another for your new shipping location.
3PL Account
You need to have one account on the professional plan to start setting up child accounts for your customers.
Simply create one child account per customer, from your parent account, then configure each child account as per the customers requirements.
You will be able to easily swap between the various child accounts.
To create a 3PL child account, go to Settings> Child account.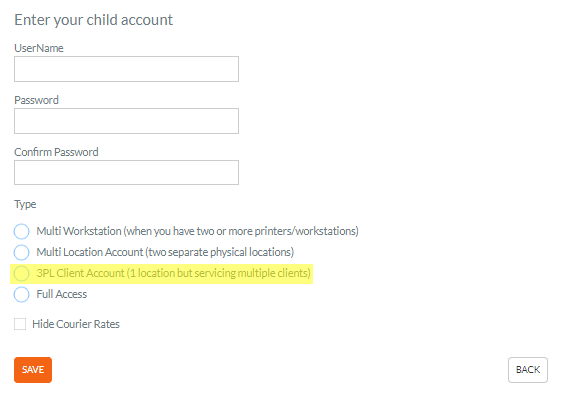 Enter the Username and Password and select the radio button 3PL Client Account.
Every account has to be set independently.
Pickup address - Set the address of your warehouse

Carrier settings - Enter the credentials for each courier company

Printing Parameters - http://support.starshipit.com/hc/en-us/articles/206359136-Printing-Setup